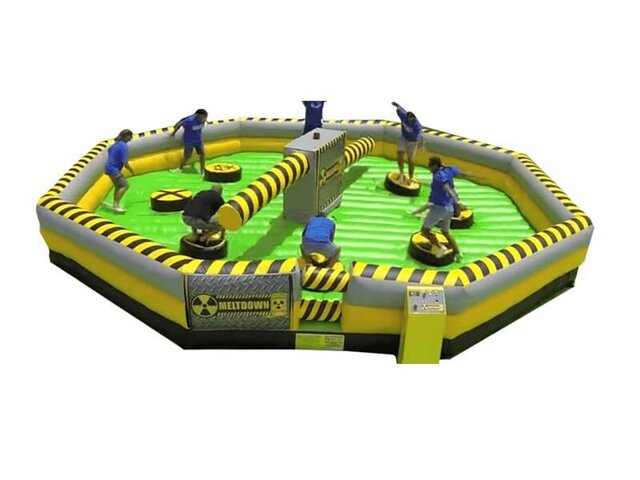 WIPEOUT
We are super excited to introduce to you the newest addition to our gaming party line-up. If you've ever dreamed of being on the tv game show Wipeout or have enjoyed playing the "Wipeout" video game... you're going to LOVE Toxic Meltdown, a giant inflatable action game that will test your agility!
We bring the giant inflatable action game to you, set it up, provide you with a game coach, and take it all down and haul it away when you're done. It doesn't get any easier that this for some crazy fast fun! 3 hour minimum ans attendant included. $110 each additional hour.
WHERE WOULD I USE THE TOXIC MELTDOWN GIANT INFLATABLE GAME? We can set up the Toxic Meltdown giant inflatable action game wherever you want. Blow up your next party with a 30' by 30' physical challenge game of epic proportions!
CORPORATE EVENTS Toxic Meltdown is the perfect addition to corporate events as it brings together people of all ages in friendly competition. We can bring the inflatable to your place of work, or set up in a park, all we need is a little space!
CHURCH EVENTS Youth groups love the Toxic Meltdown game at parties and community events. It's a great tool to use as a fundraiser for the church by charging guests ticket passes to play the game.
SCHOOLS The Toxic Meltdown giant inflatable action game is perfect for schools. We can set up at school carnivals, special events, or in the gym for some fast-paced fun!
BIRTHDAY PARTIES Kids can entertain themselves for hours competing against their friends on Toxic Meltdown. Create a bracket and fight it out to the championships for bragging rights. Your kids and their friends won't stop talking about it until you book us again for the next year!
FAMILY GATHERINGS Nothing brings out a little friendly family competition better than Toxic Meltdown. Pit adults against kids, boys against girls, or cousins vs. cousins to bring out the competitive athlete in everyone. See who comes out as family champion!
EVENTS Birthday Parties, Church Events, Corporate Events, Fairs & Carnivals, Family Reunions, Fundraisers, School Events