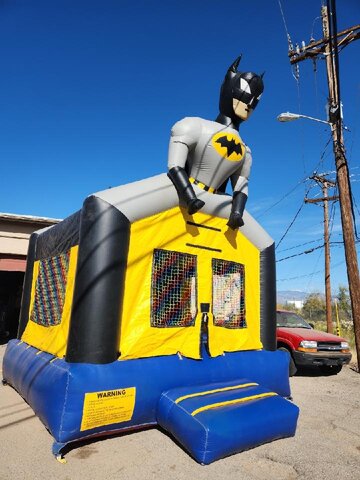 13' X 13' BATMAN BOUNCE HOUSE
Actual Size: 15' L x 15' W x 15' H




Unleash your inner superhero with our Batman Bounce House! This 13' x 13' jumping castle is the ultimate adventure for all young crime fighters.
🦇 Superhero Fun: Our Batman Bounce House brings the world of Gotham City to life. With its bold colors of blue, yellow, grey, and black, this inflatable attraction captures the iconic look of Batman. The thrilling design features a larger-than-life image of Batman himself, standing tall above the entrance, ready to embark on epic adventures.
💥 Action-Packed Excitement: Let your little heroes jump, bounce, and soar in this thrilling Batman-themed playground. The spacious interior provides ample room for kids to unleash their energy, while the sturdy construction ensures a safe and enjoyable experience.
🌦️ Wet or Dry Adventures: Our Batman Bounce House offers versatile fun for any weather. Whether it's a sunny day or a rainy afternoon, kids can enjoy the excitement of bouncing inside their favorite superhero's world. With the option to use it wet or dry, the possibilities for epic superhero adventures are endless.
👨‍👩‍👧‍👦 Perfect for Events: Planning a birthday party or a superhero-themed gathering? Our Batman Bounce House is the ultimate centerpiece that will make your event truly memorable. Watch as young heroes immerse themselves in the world of Batman, creating unforgettable moments and fostering their imagination.
📲 Reserve Your Batman Adventure: Don't miss out on this thrilling experience! Get ready for an action-packed day filled with superhero excitement!
Join forces with Batman and let the adventure begin! It's time to bounce, play, and save the day in our epic Batman Bounce House.
#BatmanBounceHouse #SuperheroAdventure #UnleashYourInnerHero #InflatableExcitement #PartyLikeASuperhero