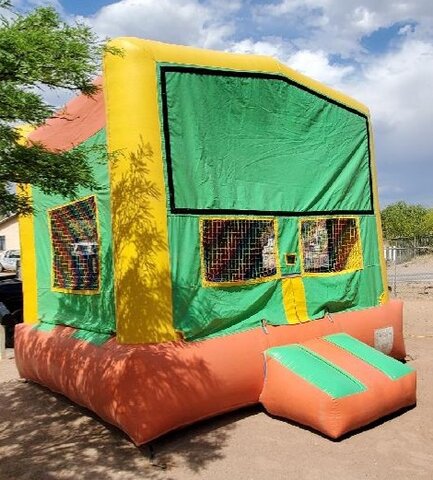 13' x 13' CLASSIC CASTLE (neon orange, green, and yellow, banner option)
Actual Size: 15' L x 15' W x 15' H




Welcome to Wonder World Jumping Castles, your ultimate destination for inflatable excitement! Prepare for a thrilling adventure with our sensational 13' x 13' Neon Green, Orange, and Yellow Bounce House. This vibrant inflatable attraction will ignite the fun and create unforgettable memories. With the option to add one of our custom banners, you can personalize the experience to make it truly special. Best of all, our bounce house can be enjoyed wet or dry, ensuring endless entertainment for all.
🎉 Unleash the Fun: Our 13' x 13' Neon Green, Orange, and Yellow Bounce House is designed to provide non-stop excitement and thrills. Watch as children's faces light up with delight as they jump, bounce, and explore this colorful inflatable wonderland.
🌈 Vibrant Color Explosion: The neon green, orange, and yellow hues of our bounce house create a visually captivating and energetic play environment. It's a true eye-catcher that adds a burst of energy to any event or celebration.
🎪 Customize Your Experience: Make your bounce house experience even more special with our banners. Whether it's a birthday party, a company event, or a community gathering, personalize the inflatable with a banner that matches the theme and creates a memorable atmosphere.
💦 Wet or Dry Adventures: Experience the versatility of our bounce house, suitable for both wet and dry play. Add water for a refreshing splash zone during hot summer days or enjoy it as a dry bounce house for year-round enjoyment. The choice is yours, promising endless fun regardless of the weather.
👶 Safety First: At Wonder World Jumping Castles, we prioritize the safety of your children. Our Neon Green, Orange, and Yellow Bounce House is crafted with high-quality materials providing a secure and supervised play environment.
📲 Book Your Bouncing Adventure: Ready to embark on an extraordinary bouncing adventure? Let the laughter and excitement begin!
Get ready to bounce, play, and make memories that will last a lifetime with our 13' x 13' Neon Green, Orange, and Yellow Bounce House. Join us at Wonder World Jumping Castles and dive into a world of fun, laughter, and endless bouncing adventures.
#NeonBounceHouse #VibrantInflatableFun #CustomizableExperience #SafePlaytime #WetOrDryFun #JumpingCastles #InflatableRentals
*PLEASE NOTE, THIS CASTLE DOES NOT AUTOMATICALLY COME WITH BANNER. PICTURE ONLY FOR REFERENCE. PLEASE CHOOSE BANNER BELOW, IF APPLICABLE.*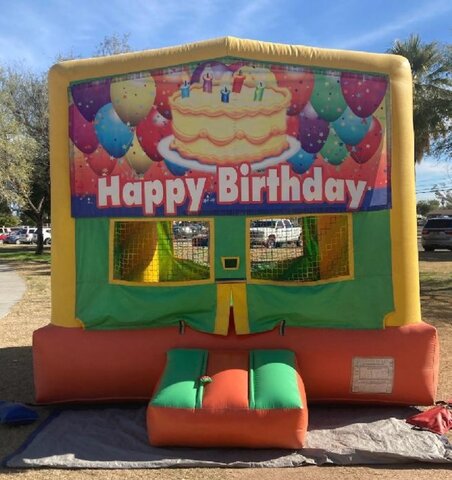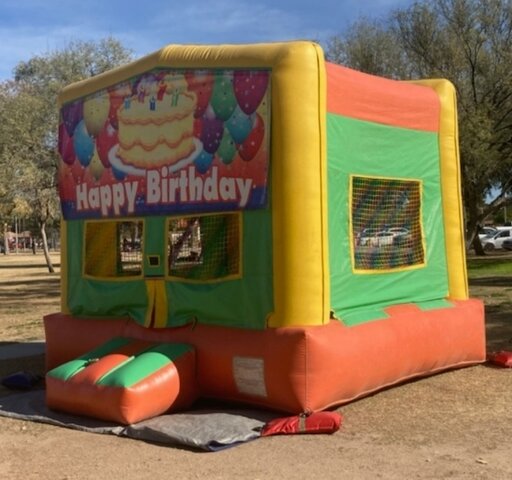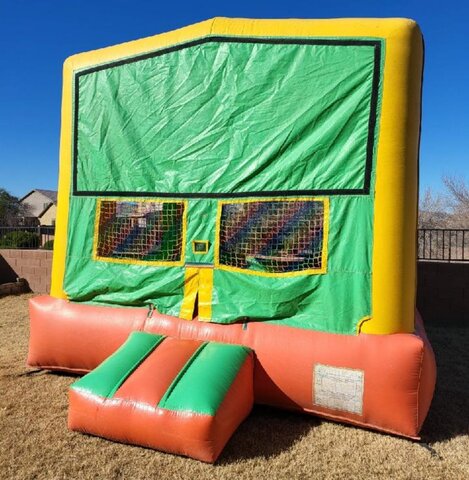 .