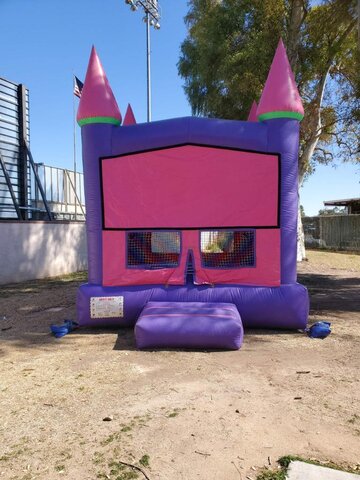 13' X 13' CLASSIC CASTLE (pink and purple with pink front)
Welcome to Wonder World Jumping Castles, where imagination knows no bounds! Jump into a world of excitement with our sensational 15' x 15' Pink and Purple Bounce House. This captivating inflatable attraction is the epitome of fun and adventure, featuring a vibrant pink front that will ignite the joy in every child's heart. Versatile and ready for any occasion, our Pink and Purple Bounce House can be enjoyed wet or dry, making it the ultimate choice for endless entertainment.
🎉 Unleash the Fun: Our 15' x 15' Pink and Purple Bounce House is a burst of vibrant colors and boundless energy. Watch as children's faces light up with delight when they step inside this captivating play area that's designed for non-stop bouncing and laughter.
🌈 Vibrant Pink Front: The pink front of our bounce house adds a touch of charm and excitement, creating an inviting entrance that beckons children to embark on a thrilling bouncing adventure. The bright and cheerful colors make it an eye-catching centerpiece for any event.
💦 Wet or Dry Thrills: Experience the best of both worlds with our Pink and Purple Bounce House, which offers the flexibility of wet or dry play. Add water for a refreshing water park experience on hot summer days or enjoy it as a dry bounce house for year-round enjoyment. The choice is yours, ensuring endless fun no matter the weather.
🎈 Endless Entertainment: Whether it's a birthday celebration, a neighborhood gathering, or a fun-filled weekend, our Pink and Purple Bounce House is the perfect attraction to keep children entertained. It provides a safe and exciting environment for kids to jump, slide, and create unforgettable memories.
👶 Safe and Secure: At Wonder World Jumping Castles, safety is our top priority. Rest assured that our Pink and Purple Bounce House is crafted with high-quality materials. We prioritize the well-being of your children, allowing you to enjoy peace of mind while they have a blast.
📲 Book Your Bouncing Adventure: Ready to make memories that will last a lifetime? Let the laughter and excitement begin!
Experience the thrill of bouncing and laughter with Wonder World Jumping Castles. Join us in our 15' x 15' Pink and Purple Bounce House and create unforgettable moments of joy, fun, and pure happiness.
#PinkAndPurpleBounceHouse #InflatableAdventure #SafePlaytime #WetOrDryFun #JumpingCastles #InflatableRentals
size: 15' L x 15' W x 15' H