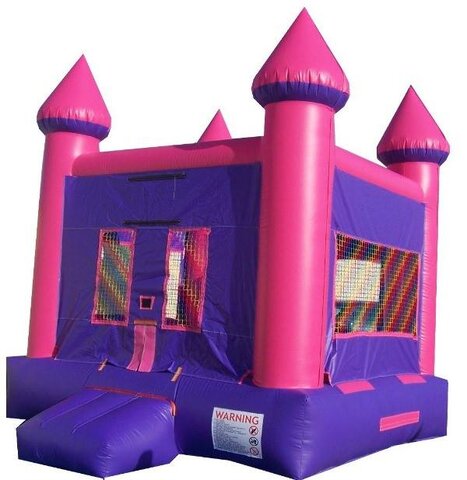 13' X 13' CLASSIC CASTLE (pink and purple with purple front)
Actual Size: 15' L x 15' W x 15' H




Welcome to Wonder World Jumping Castles, your ultimate destination for unforgettable inflatable fun! Get ready to bounce and play in style with our vibrant 13' x 13' Pink and Purple Jumping Castle. This captivating inflatable attraction is a dream come true for children of all ages. With its eye-catching pink and purple design and a welcoming purple front, this versatile inflatable can be enjoyed wet or dry, making it perfect for any occasion.
Vibrant Pink and Purple Delight: Our 13' x 13' Pink and Purple Jumping Castle is a burst of color and excitement. The vibrant pink and purple hues create a visually stunning and captivating play area that will thrill children from the moment they set foot inside.
Bounce and Play in Style: Let your little ones unleash their energy and boundless imagination as they jump, tumble, and giggle within the spacious confines of our Pink and Purple Jumping Castle. This inflatable attraction provides a safe and exhilarating play environment that guarantees hours of non-stop fun.
Wet or Dry Adventures: Embrace the freedom of choice with our Pink and Purple Jumping Castle, designed for both wet and dry play. Add water for a refreshing water park experience during hot summer days or enjoy it as a dry bounce house for year-round enjoyment. The possibilities are endless, ensuring excitement no matter the weather.
Versatile and Inviting: The Pink and Purple Jumping Castle is the perfect centerpiece for birthday parties, backyard gatherings, community events, and more. Its inviting design and captivating colors make it a favorite among children and a standout attraction at any celebration.
Safe and Reliable: At Wonder World Jumping Castles, safety is paramount. Rest assured that our Pink and Purple Jumping Castle is crafted with the highest quality materials. We prioritize the well-being of your children, allowing you to enjoy peace of mind while they have a blast.
Reserve Your Bouncing Adventure: Ready to bounce into excitement? Don't miss out on the fun! Let the laughter and joy begin!
Experience the thrill of bouncing and playing in our Pink and Purple Jumping Castle. Join us at Wonder World Jumping Castles and create lasting memories filled with laughter, excitement, and endless fun.
#PinkAndPurpleJumpingCastle #InflatableAdventure #SafePlaytime #WetOrDryFun #JumpingCastles #InflatableRentals