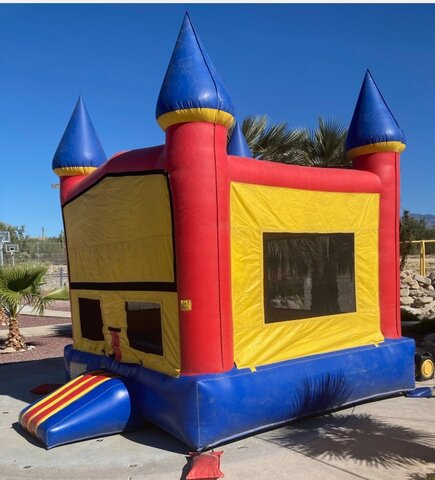 13' x 13' CLASSIC CASTLE (primary colors, banner option)
Actual Size: 15' L x 15' W x 15' H




Welcome to Wonder World Jumping Castles, your go-to destination for unforgettable inflatable fun! Get ready to bounce, play, and create memories with our timeless 13' x 13' Classic Bounce House. With its vibrant yellow, blue, and red colors, this iconic inflatable attraction brings joy and excitement to every event. Plus, with the option to add one of our banners, you can personalize the experience. Best of all, our Classic Bounce House can be enjoyed wet or dry, making it the perfect choice for any occasion.
Timeless Fun: Our 13' x 13' Classic Bounce House is a beloved favorite, providing endless hours of entertainment and laughter. Jump, bounce, and let the good times roll with this iconic inflatable attraction that never goes out of style.
Vibrant Color Combination: The yellow, blue, and red hues of our Classic Bounce House create a visually appealing and captivating play area that catches the eyes of both children and adults alike. It's a fantastic centerpiece that adds a burst of energy to any event.
Personalize Your Experience: Make your event even more special with our banners. Whether it's a birthday, a company gathering, or a community celebration, add your unique touch and make the Classic Bounce House truly yours.
Wet or Dry Adventures: Embrace the freedom of choice with our Classic Bounce House, suitable for both wet and dry play. Turn up the excitement by adding water for a refreshing water park experience on hot days or enjoy it as a dry bounce house for year-round enjoyment.
Safe and Secure: At Wonder World Jumping Castles, safety is our top priority. Our Classic Bounce House is crafted with high-quality materials ensuring a worry-free play environment for children of all ages.
Book Your Bouncing Adventure: Ready to jump into the fun? Let the laughter and excitement begin!
Experience the thrill of bouncing and play with our 13' x 13' Classic Bounce House. Join us at Wonder World Jumping Castles and create unforgettable memories filled with joy, laughter, and boundless fun.
#ClassicBounceHouse #InflatableAdventure #CustomizableFun #SafePlaytime #WetOrDryFun #JumpingCastles #InflatableRentals