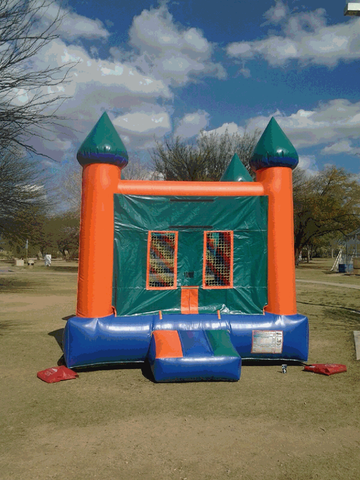 13' X 13' GREEN AND ORANGE
Actual Size: 15' L x 15' W x 15' H




Welcome to Wonder World Jumping Castles, your ultimate destination for inflatable fun and excitement! Get ready to bounce, play, and create lasting memories with our sensational 13' x 13' Green and Orange Bounce House. This vibrant inflatable attraction will ignite the fun and bring joy to children of all ages. Whether it's for a backyard party or a community event, our bounce house guarantees endless entertainment. Best of all, it can be used wet or dry, adding versatility to the experience.
🎉 Experience the Thrill: Our 13' x 13' Green and Orange Bounce House is designed to provide non-stop fun and excitement. Watch as children's laughter fills the air while they jump, bounce, and let their imaginations soar in this captivating inflatable wonderland.
🌈 Vibrant Color Combination: The vibrant green and orange hues of our bounce house create a visually captivating and energetic play environment. It's a standout attraction that adds a burst of color and liveliness to any occasion.
🎪 Perfectly Sized: With its 13' x 13' dimensions, our bounce house offers ample space for children to enjoy endless fun and adventure. It's the ideal size for backyard parties, school events, and other special gatherings.
💦 Wet or Dry Adventures: Embrace the flexibility of our bounce house, suitable for both wet and dry play. Add water for a refreshing splash zone during hot summer days or enjoy it as a dry bounce house for year-round entertainment. The choice is yours, ensuring a thrilling experience in any weather.
👶 Safety First: At Wonder World Jumping Castles, we prioritize the safety of your children. Our Green and Orange Bounce House is crafted with high-quality materials providing a secure play environment.
📲 Reserve Your Bouncing Adventure: Ready to embark on an extraordinary bouncing adventure? Let the laughter and excitement begin!
Jump into a world of fun, laughter, and endless bouncing adventures with our 13' x 13' Green and Orange Bounce House. Join us at Wonder World Jumping Castles and create unforgettable memories that will be cherished for years to come.
#GreenAndOrangeBounceHouse #InflatableFun #SafePlaytime #WetOrDryFun #JumpingCastles #InflatableRentals