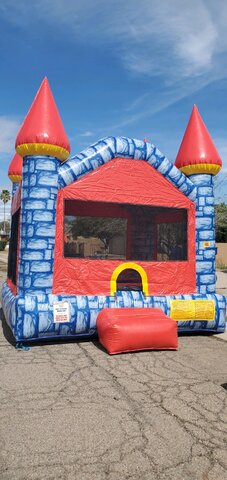 13' X 13' MEDIEVAL BOUNCE HOUSE
Actual Size: 15' L x 15' W x 15' H  




Step into a world of knights, princesses, and royal fun with Wonder World Jumping Castles! Introducing our majestic 13' x 13' Medieval Themed Bounce House, where adventure awaits. Designed to resemble a castle with blue and white stone-looking turrets, accented with vibrant red and yellow, this inflatable attraction will transport children to a medieval realm of excitement. Whether it's a birthday celebration or a special event, our medieval-themed bounce house guarantees an enchanting experience. And the best part? It can be used wet or dry, adding to the versatility and enjoyment.
🏰 Journey to the Medieval Realm: Our 13' x 13' Medieval Themed Bounce House invites young adventurers to step back in time and experience the magic of the Middle Ages. Watch as their imaginations soar while they bounce, slide, and play in this captivating inflatable castle.
🛡️ Majestic Castle Design: With its blue and white stone-looking turrets and vibrant red and yellow accents, our bounce house showcases a stunning castle-inspired design. It's a visually striking attraction that adds a touch of medieval splendor to any occasion.
🌈 Endless Royal Fun and Adventure: Witness the joy and excitement on children's faces as they bounce and explore this enchanting play environment. The spacious interior provides ample room for imaginative play, ensuring hours of endless royal fun and adventure.
💦 Wet or Dry Adventures: Embrace the versatility of our bounce house, perfect for both wet and dry play. Add water for a refreshing splash zone during hot summer days or enjoy it as a dry bounce house for year-round entertainment. The choice is yours, promising an unforgettable experience in any weather.
👑 Safety Fit for Royalty: At Wonder World Jumping Castles, we prioritize the safety of your little ones. Our Medieval Themed Bounce House is crafted with premium materials to provide a secure play environment.
📲 Reserve Your Royal Adventure: Ready to embark on a medieval bouncing adventure? Let the laughter and royal festivities commence!
Step into the enchanting world of the Middle Ages with our 13' x 13' Medieval Themed Bounce House. Join us at Wonder World Jumping Castles and create unforgettable memories filled with laughter, imagination, and the spirit of knights and princesses.
#MedievalBounceHouse #CastleAdventure #ImaginativePlay #SafePlaytime #WetOrDryFun #JumpingCastles #InflatableRentals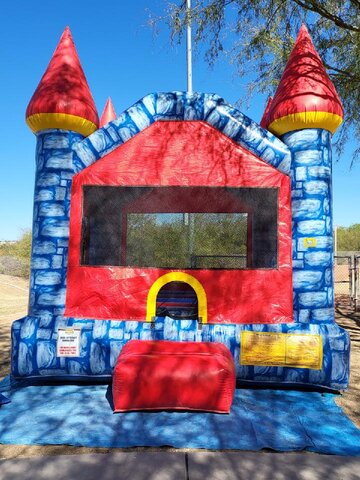 .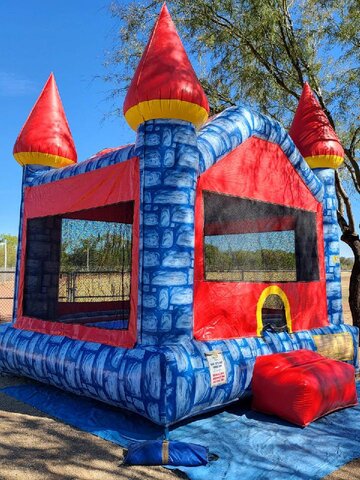 .