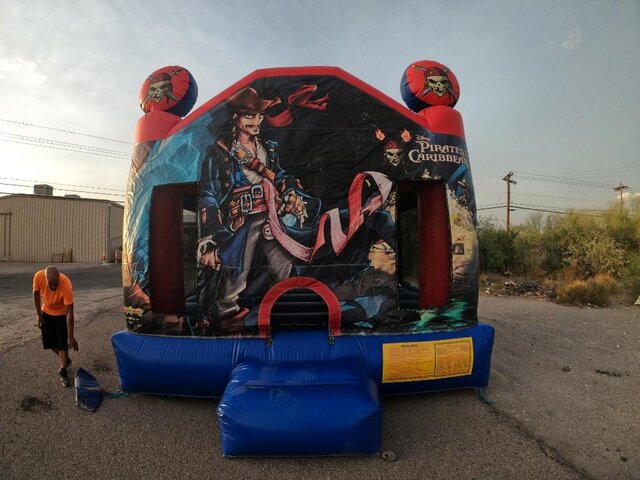 13' X 13' PIRATES OF THE CARIBBEAN BOUNCE HOUSE
Actual Size: 15' L x 15' W x 15' H  




Embark on a swashbuckling adventure with our 13' x 13' Pirates of the Caribbean Themed Bounce House! Inspired by the beloved movie franchise, this inflatable attraction will transport young buccaneers to a world of excitement and imagination. Get ready to set sail, dodge cannonballs, and search for hidden treasures!
🏴‍☠️ Pirate Paradise: Our Pirates of the Caribbean bounce house features Jack Sparrow complete with intricate details and vibrant colors, immersing children in the thrilling world of pirates.
🌊 Wet or Dry Fun: For an additional fee, you have the option to turn your pirate adventure into a wet and wild experience. Add water to the bounce house and let young pirates slide and splash their way to excitement during hot summer days. It's an extra splash of fun that will make your event unforgettable!
⚓️ Imaginative Play: Inside the bounce house, young adventurers will find a world of imaginative play. They can bounce, jump, and pretend to sail the high seas. It's an opportunity for kids to unleash their creativity, engage in active play, and create unforgettable memories.
🎉 Perfect for Any Occasion: Whether you're hosting a pirate-themed birthday party, a family gathering, or a community event, our Pirates of the Caribbean bounce house is sure to be a hit. It's a centerpiece attraction that will keep children entertained and captivated throughout the event.
📲 Reserve Your Pirate Adventure: Ready to set sail on a pirate-themed extravaganza? Get ready to hoist the anchor and let the adventure begin!
Ahoy, mateys! Discover a world of pirate fun and excitement with our Pirates of the Caribbean Themed Bounce House. At Wonder World Jumping Castles, we're here to make your event an unforgettable experience!
#PiratesOfTheCaribbeanBounceHouse #PirateAdventure #WetOrDryFun #BounceHouseRentals #InflatableFun