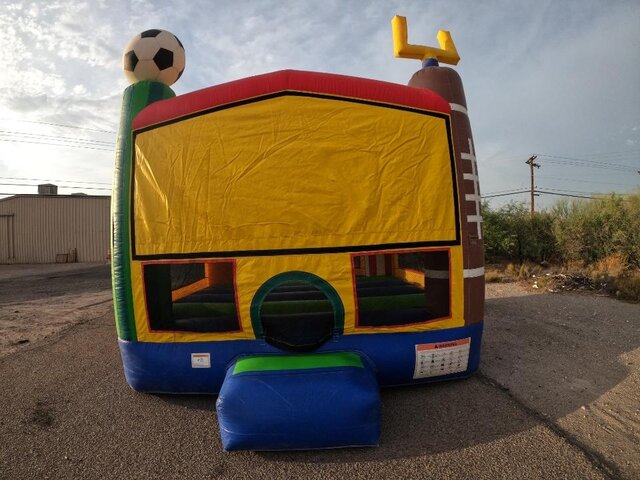 13' X 13' SPORT BOUNCE HOUSE
Actual Size: 15' L x 15' W x 15' H




Step into the world of sports with our thrilling 13' x 13' Sports Themed Bounce House! Designed to ignite the passion for sports in young hearts, this inflatable attraction brings the excitement of four popular sports right to your event. Each turret showcases a different sport. Get ready for a slam dunk, a goal-scoring celebration, a touchdown dance, and a home run swing!
🏀 Basketball Bonanza: Experience the thrill of basketball. One turret is decorated like a basketball with a backboard on top. Shoot for the stars and bounce your way to victory!
⚽ Soccer Spectacular: The soccer turret is a sight to behold with its vibrant green stripes and a soccer ball on top.
🏈 Football Frenzy: Decorated like a football with a goal post on top, this turret is a touchdown of fun and excitement!
⚾ Baseball Bliss: The baseball turret is adorned with classic red and white stripes and a baseball on top. Swing for the fences, round the bases, and catch fly balls as you embark on a baseball adventure inside the bounce house. It's a grand slam of entertainment!
🏀 Slam Dunk Fun: Inside the bounce house, kids will discover an added surprise – a basketball hoop! Perfect your dunks, challenge your friends to a friendly game, and experience the joy of bouncing and shooting like a basketball pro.
💦 Wet or Dry Adventure: Our Sports Themed Bounce House is designed to be enjoyed wet or dry, making it perfect for any occasion. Add water for a refreshing splash of excitement during hot summer days, or use it as a dry inflatable for year-round fun. The choice is yours!
👦👧 Safe and Bouncy: At Wonder World Jumping Castles, safety is our utmost priority. Our Sports Themed Bounce House is made from top-quality materials, ensuring a safe and secure play environment for children. Let them bounce, jump, and play with confidence and joy.
🌟 Unforgettable Memories: Create lasting memories of laughter, friendly competition, and sportsmanship with our Sports Themed Bounce House. Watch as children's faces light up with delight as they engage in active play, fostering teamwork and a love for sports.
📲 Book Your Sports Adventure: Ready to score big with our Sports Themed Bounce House? Let the games begin!
Experience the excitement of sports and create an unforgettable event with our Sports Themed Bounce House. Wonder World Jumping Castles is your go-to destination for action-packed inflatable fun!
#SportsThemedBounceHouse #BasketballBonanza #SoccerSpectacular #FootballFrenzy #BaseballBliss #WetOrDryAdventure #BounceHouseRentals #InflatableFun