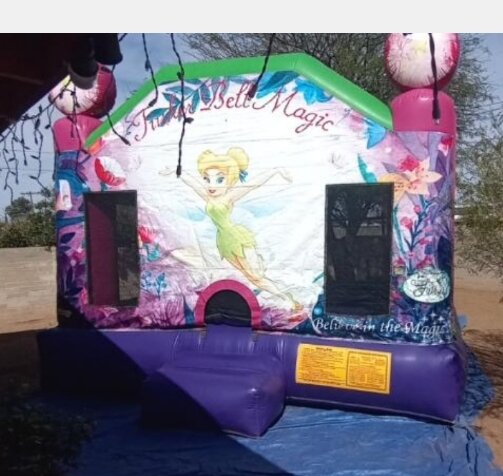 13' x 13' TINKERBELL BOUNCE HOUSE
Experience the enchantment of Pixie Hollow with our Tinkerbell Themed Bounce House! This magical 13' x 13' inflatable attraction will transport children to a world of fantasy and imagination, where they can bounce, slide, and play alongside the beloved fairy herself.
Delight in Tinkerbell's World: Our Tinkerbell Themed Bounce House is a whimsical wonderland of vibrant colors and delightful details. The purple, pink, and green design captures the essence of Tinkerbell's enchanting world, while the captivating image of Tinkerbell in flight on the front invites children to join her on a magical adventure.
Safe and Reliable Fun: At Wonder World Jumping Castles, safety is paramount. Our Tinkerbell Themed Bounce House is crafted with high-quality materials to ensure a secure and enjoyable experience for all young adventurers. Parents can rest easy, knowing their children are bouncing and playing in a safe environment.
Wet or Dry Excitement: Whether it's a sunny day or a rainy afternoon, our Tinkerbell Themed Bounce House is ready for fun! This versatile inflatable can be used wet or dry, providing endless possibilities for play and ensuring that every moment is filled with joy and laughter.
Immerse in Fairy Fantasy: Step into the magical world of Tinkerbell and let your imagination take flight. Children will delight in bouncing, and imagining themselves as fairy friends, exploring the wonders of Pixie Hollow and creating their own enchanting tales.
Book Your Fairy Adventure: Are you ready to embark on a Tinkerbell-themed adventure? Get ready for a magical experience filled with laughter, joy, and endless memories!
Join Tinkerbell and her fairy friends in a world of imagination and excitement. At Wonder World Jumping Castles, we're here to make dreams come true, one bounce at a time.
#TinkerbellBounceHouse #MagicalAdventure #WetOrDryPlay #ImaginativeFun #InflatableExcitement