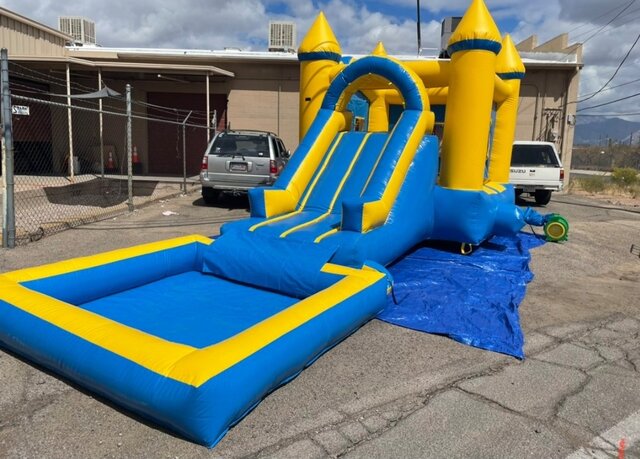 15' X 15' BLUE AND YELLOW COMBO
Actual Size: 15' W x 35' L
Outlets: 1
Age Group: 5+




Welcome to Wonder World Jumping Castles, the ultimate destination for inflatable fun and excitement! We are dedicated to providing unforgettable experiences for all ages, making every event a memorable one.
Introducing our spectacular 15' x 15' Blue and Yellow Combo, the perfect centerpiece for any celebration. This vibrant inflatable attraction will captivate both children and adults, ensuring hours of endless entertainment.
Unleash the Fun: Get ready to bounce, jump, and play in our spacious bounce area. With plenty of room to let loose, you and your guests can experience the pure joy of bouncing to your heart's content. Our high-quality materials provide a safe and enjoyable experience for everyone.
Slide to Adventure: Embark on an exhilarating journey as you glide down the slide. Feel the rush of excitement as you make your way to the bottom, ready to conquer new adventures. The slide provides an extra element of thrill and adds an extra layer of excitement to your inflatable experience.
Wet or Dry Option: Choose your preferred adventure with our versatile wet or dry option. Make a splash with the wet option and enjoy a refreshing water experience. Alternatively, keep things dry and bounce to your heart's content. Whatever you choose, our 15' x 15' Blue and Yellow Combo is designed to deliver maximum fun and flexibility.
Unforgettable Memories: Whether it's a birthday party, family gathering, school event, or corporate function, our combo is the perfect addition to any occasion. Watch as smiles light up faces, laughter fills the air, and unforgettable memories are created. Our inflatable attractions are sure to leave a lasting impression on your guests.
Book Your Adventure: Ready to bring the excitement to your next event? Our friendly team is here to assist you in planning an unforgettable experience for your guests.
At Wonder World Jumping Castles, we are committed to delivering top-quality inflatables and outstanding customer service. Join us in the pursuit of fun, laughter, and unforgettable moments. Book your inflatable adventure today!
#InflatableFun #BlueAndYellowCombo #WetOrDryOption #UnforgettableExperience #BookNow