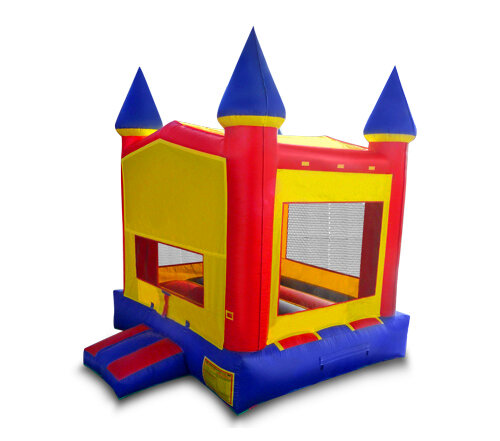 15' x 15' CLASSIC CASTLE
Actual Size: 15' x 15'
Setup Area: 17' x 17'




Step into a world of enchantment with Wonder World Jumping Castles! Introducing our timeless 15' x 15' Classic Castle, where imagination reigns supreme. Designed with iconic castle features and the option to customize with one of our banners, this inflatable attraction will transform any event into a magical experience. Whether it's a birthday celebration or a royal-themed party, our classic castle guarantees hours of joyful play. And the best part? It can be used wet or dry, providing endless fun in any weather.
🏰 Enter the Realm of Imagination: Our 15' x 15' Classic Castle invites children to embark on a grand adventure in their very own kingdom. Watch as their imaginations soar while they bounce, slide, and play in this timeless inflatable fortress.
🎉 Customizable with Banners: Add a personal touch to your castle experience with our range of banners. From birthday wishes to themed decorations, choose the banner that matches your event and make it truly unique.
⚡️ Versatile Wet or Dry Play: Embrace the versatility of our classic castle, suitable for both wet and dry play. Add water for a refreshing splash zone during hot summer days, or enjoy it as a dry bounce house for year-round excitement. The choice is yours, promising non-stop fun in any weather.
🌈 Endless Joy and Adventure: Let the laughter and excitement fill the air as children bounce and explore the spacious interior of our classic castle. With its large size and safe design, it's the perfect playground for imaginative play and memorable moments.
👑 Safe and Secure: At Wonder World Jumping Castles, safety is our utmost priority. Our Classic Castle is constructed with top-quality materials ensuring a secure play environment for all little princes and princesses.
📲 Book Your Royal Adventure: Ready to create magical memories? Let the imagination take center stage!
Step into a world of wonder and create unforgettable memories with our 15' x 15' Classic Castle. Join us at Wonder World Jumping Castles and let the magic begin!
#ClassicCastle #ImaginativePlay #SafePlaytime #WetOrDryFun #JumpingCastles #InflatableRentals
5