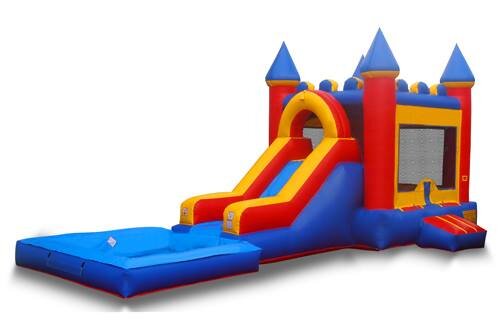 15' X 15' COMBO PRIMARY COLORS
Actual Size: 35'L x 15'W
Outlets: 1
Age Group: 5+




Welcome to our website, where fun and excitement collide with our 15' x 15' Combo Primary Colors! Get ready for an action-packed experience that will keep you entertained and captivated from start to finish.
Vibrant and Versatile: Our Combo Primary Colors inflatable is a celebration of bold and bright hues. With its eye-catching blend of red, yellow, and blue, this combo is designed to ignite your imagination and create a visually stunning play area.
Bounce and Slide: Step into the bouncing area and let the good times roll. Experience the joy of bouncing and leaping to new heights as you enjoy the spacious and secure jumping surface. When it's time to exit, slide down the exhilarating slide, adding an extra element of thrill and adventure to your playtime.
Wet or Dry Fun: Embrace the versatility of our Combo Primary Colors, as it can be enjoyed in both wet and dry conditions. Make a splash by transforming your playtime into a water extravaganza, sliding into refreshing pool of excitement. Alternatively, keep it dry and bounce to your heart's content, regardless of the weather outside.
Reserve Your Fun-Filled Adventure: Ready to embark on an unforgettable journey of bouncing and sliding? Get ready to bounce, slide, and create memories that will last a lifetime!
Experience the excitement and joy of our 15' x 15' Combo Primary Colors. Whether you're bouncing, sliding, or splashing, you're guaranteed to have a blast!
#ComboPrimaryColors #BounceAndSlide #WetOrDryFun #UnforgettableAdventure