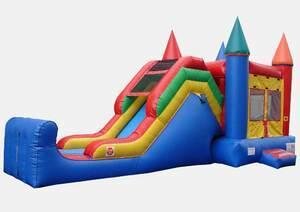 15' X 15' CRAYON COMBO
Setup Area: 17'W x 27'L
Outlets: 1
Age Group: 5+




Welcome to our website, where imagination comes to life with our 15' x 15' Crayon Combo! Get ready for a vibrant and colorful adventure that will unleash your creativity and ignite the joy of play.
Explore the Colors: Step into a world of endless possibilities with our Crayon Combo. Bursting with the vibrant colors of red, yellow, blue, green, and orange, it captures the essence of creativity and fun. Each turret is uniquely designed in the shape of a crown, adding a touch of royalty to the experience.
Jump and Slide: Let your imagination soar as you enter the spacious jumping area of our Crayon Combo. Bounce, leap, and express yourself with every jump. When you're ready for an exciting exit, slide down the slide, feeling the rush of adventure and the thrill of sliding into a world of imagination.
Wet or Dry Adventures: Embrace the versatility of our Crayon Combo, as it can be used wet or dry. Whether you want to add a splash of excitement with a wet slide or enjoy a dry bouncing extravaganza, the choice is yours. This flexibility ensures that every event, party, or gathering is tailored to your preferences and weather conditions.
Unleash Creativity: Our Crayon Combo is not just an inflatable attraction; it's a canvas for imaginative play. Inspire young minds to unleash their creativity, express their unique ideas, and dive into a world of limitless possibilities. Watch as children's laughter and joy fill the air, creating unforgettable memories.
Reserve Your Colorful Adventure: Are you ready to embark on a vibrant journey of fun and creativity? Let the colors of imagination come to life!
Get ready to color your world with the 15' x 15' Crayon Combo. It's time to jump, slide, and unleash your creativity in an inflatable adventure like no other!
#CrayonCombo #VibrantFun #WetOrDry #ImaginationUnleashed #PartyTime