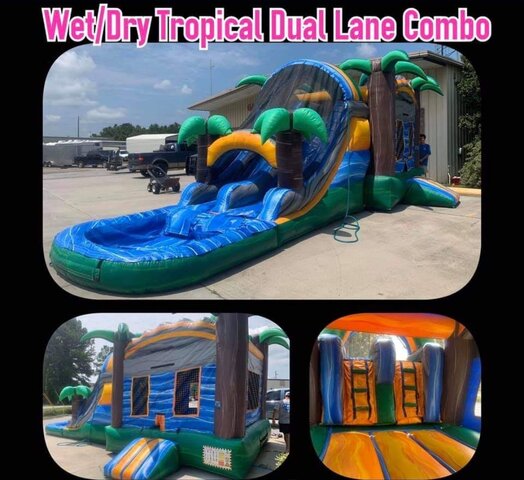 15' x 15' DUAL LANE TROPICAL COMBO
Actual Size: 32ft L x 20ft W x 10ft H




Welcome to our website, where fun meets the tropics with our 15' x 15' Dual Lane Tropical Combo! This vibrant and exciting inflatable attraction is sure to make a splash at your next event or party.
Tropical Paradise: Immerse yourself in the tropical vibes of our Dual Lane Tropical Combo. With its unique design and captivating colors of blue, grey, orange, green, and brown, it transports you to a sun-soaked paradise. The turrets resembling palm trees create an inviting atmosphere, while the blue sides mimic shimmering water, adding to the tropical ambiance.
Dual Lane Action: Get ready for double the fun! Our Dual Lane Tropical Combo features not just one, but two thrilling lanes for sliding. Kids can race side by side, experiencing the exhilaration of a friendly competition. The dual slide is perfectly complemented by the vibrant tropical theme, creating an immersive and exciting adventure.
Wet or Dry Fun: Whether you're looking to beat the heat or enjoy a dry bouncing experience, our Dual Lane Tropical Combo has got you covered. It can be used wet or dry, allowing you to customize the experience to suit your preferences and the weather conditions. Add some refreshing water play to your event by connecting a pool to the end of the slide.
Unforgettable Memories: Make your event one to remember with the Dual Lane Tropical Combo. This inflatable attraction provides a safe and enjoyable environment for children to bounce, slide, and create lasting memories. Whether it's a birthday party, a community gathering, or a school event, the tropical theme adds a touch of magic and excitement to any occasion.
Reserve Your Tropical Adventure: Don't miss out on the tropical fun! Get ready for an unforgettable experience filled with laughter, excitement, and tropical vibes.
Get lost in a world of tropical fun with our 15' x 15' Dual Lane Tropical Combo. It's time to slide, bounce, and create unforgettable memories in a tropical paradise! Click here to see more!
#DualLaneTropicalCombo #TropicalVibes #InflatableFun #WetOrDry #PartyTime3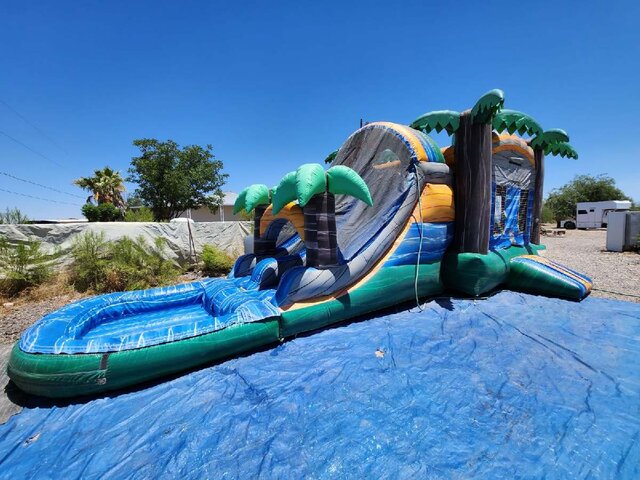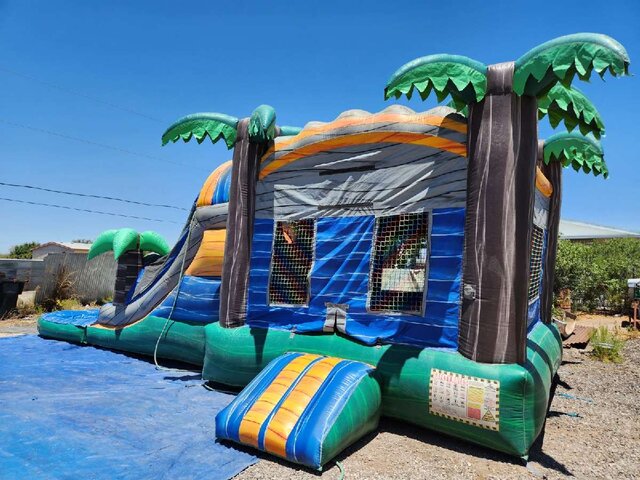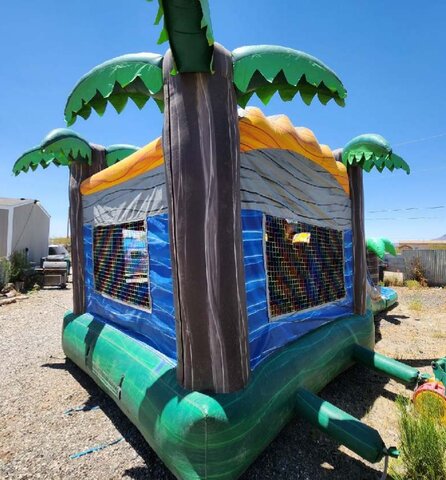 .