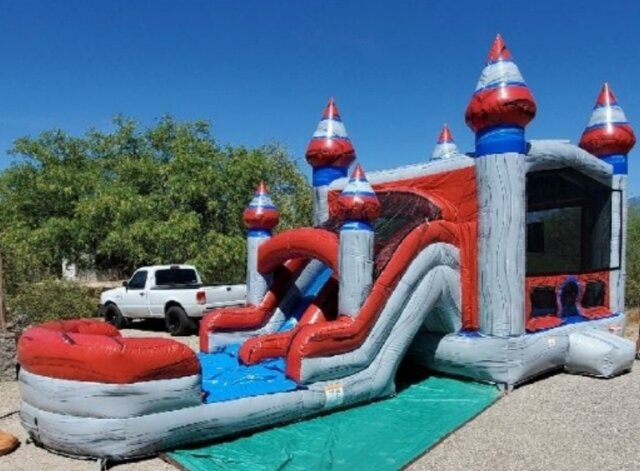 15' X 15' GREY MARBLE COMBO
Actual Size: 25ftL x 20ftW x 15ftH
Outlets: 1
Age Group: 5+




Welcome to our website, where fun and excitement await! Introducing our marvelous 15' x 15' Grey Marble Combo, a thrilling inflatable experience that will leave you mesmerized.
Explore the Marble Maze: Step into a world of elegance with our Grey Marble Combo. The marbled pattern in shades of grey creates a stunning visual display that will captivate guests of all ages.
Bounce and Soar: Jump, leap, and bounce to your heart's content in the spacious jumping area. Feel the exhilaration as you defy gravity and reach new heights, surrounded by the enchanting grey and vibrant pops of blue and red.
Slide to Victory: Experience the thrill as you glide down the slide to make a stylish exit. It's a high-speed adventure that adds an extra element of excitement to your inflatable journey.
Wet or Dry Delight: Customize your experience with our versatile wet or dry option. Choose to splash and play in the attached pool for a refreshing aquatic adventure, or enjoy endless bouncing fun in a dry environment. The choice is yours!
Optional Banner: Personalize your Grey Marble Combo with our range of optional banners. Select a banner from our inventory to match your theme, event, or showcase a special message. It's a fantastic way to add a personalized touch to your inflatable attraction.
Book Your Marble Adventure: Ready to embark on an unforgettable inflatable journey? Get ready to create memories that will last a lifetime!
Unleash your sense of wonder and dive into the excitement of our 15' x 15' Grey Marble Combo. Don't miss out on the fun - reserve your spot today!
#GreyMarbleCombo #InflatableAdventure #WetOrDryOption #OptionalBanner #BookNow