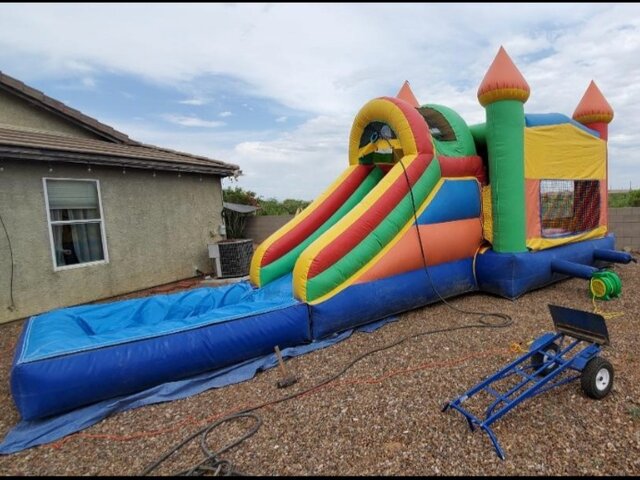 15' X 15' ORANGE, GREEN AND YELLOW COMBO
Actual Size: 35'L x 15'W x 15'H 




Discover endless excitement with our 15' x 15' Orange, Green, and Yellow Combo! This vibrant and thrilling inflatable is designed to take your event to the next level.
Burst of Colors: Immerse yourself in a world of bright hues with our orange, green, and yellow combo. Its eye-catching design will capture the attention of all guests and create a festive atmosphere that everyone will love.
Jump and Slide: Jump, bounce, and let the laughter fill the air in the spacious jumping area. Release your energy and experience the joy of being weightless as you soar through the air. When it's time to exit, slide down the exhilarating slide and make a grand exit that will leave everyone wanting more.
Wet or Dry Adventure: Embrace the versatility of our combo as it can be used both wet and dry. Keep the excitement going by turning on the water feature and transforming it into a refreshing water slide. Alternatively, enjoy the fun and excitement in a dry setting. Rain or shine, the choice is yours!
Optional Banner Selection: Add a personal touch to your inflatable adventure by choosing an optional banner from our inventory. Whether it's a birthday celebration, corporate event, or themed party, our banners can enhance the visual appeal and create a customized experience.
Book Your Unforgettable Experience: Ready to elevate your event with our 15' x 15' Orange, Green, and Yellow Combo? Don't miss out on the fun and reserve your inflatable adventure today. Get ready to create unforgettable memories with our exciting inflatable!
Experience the thrill of jumping, sliding, and laughter with our 15' x 15' Orange, Green, and Yellow Combo. It's the perfect centerpiece for any event, providing hours of entertainment and joy for guests of all ages.
#OrangeGreenYellowCombo #JumpAndSlide #WetOrDryAdventure #OptionalBanners #BookNow