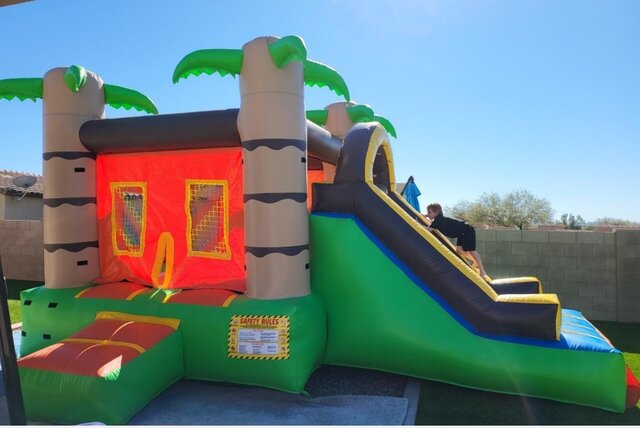 15' X 15' ORANGE AND GREEN TROPICAL
Actual Size: 35'L x 15'W x 15'H
Outlets: 1
Age Group: 5+




Welcome to Wonder World Jumping Castles, where the tropics come alive and the fun never ends! Get ready for a wild adventure with our 15' x 15' Orange and Green Tropical Combo. This inflatable paradise will transport you to a vibrant oasis where excitement and laughter thrive.
Immerse yourself in the tropical vibes as you step into a world of orange, green, yellow, and blue. The colors of the Caribbean surround you, creating a captivating atmosphere that sets the stage for endless fun. Look up and marvel at the turrets of the jumping castle area, designed to resemble majestic palm trees swaying in the tropical breeze.
Are you ready to jump, bounce, and play? The spacious jumping area invites you to let loose and unleash your inner explorer. Feel the rush of adrenaline as you leap with joy, surrounded by the lively colors and tropical ambiance. It's a jumping adventure like no other!
But the excitement doesn't stop there! When it's time to make your grand exit, get ready for an exhilarating ride down the slide. Experience the thrill as you glide down to the vibrant paradise below, leaving a trail of laughter and smiles in your wake.
The best part? Our Orange and Green Tropical Combo is versatile and can be enjoyed in any weather. Whether you choose to cool off with a refreshing splash in the pool or embark on an epic dry adventure, the choice is yours. It's the perfect way to turn any gathering into a tropical celebration.
At Wonder World Jumping Castles, we're dedicated to providing exceptional customer service and ensuring a clean and safe environment for all our guests. We take pride in offering the largest selection of inflatables and inflatable games in Tucson and the surrounding areas. Your satisfaction is our priority, and we're committed to creating memorable experiences for you and your loved ones.
Booking your tropical adventure is a breeze! Visit our website at www.wonderworldjumpingcastles.com and embark on an unforgettable journey in the Orange and Green Tropical Combo. Our easy-to-use interface allows you to reserve your preferred date and time with just a few clicks. Don't wait too long, as availability can disappear faster than a tropical sunset!
Join us at Wonder World Jumping Castles and let the tropical magic begin. Explore, play, and create cherished memories in the vibrant oasis of the Orange and Green Tropical Combo. Get ready for a thrilling adventure that will transport you to paradise!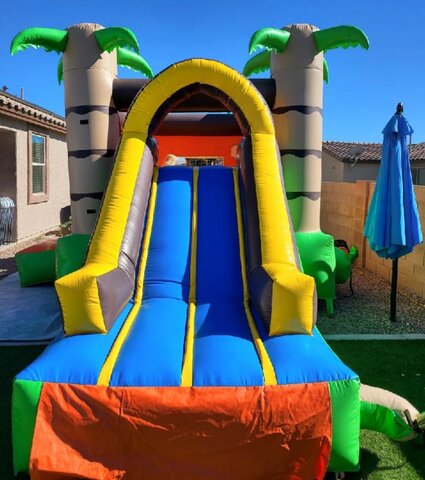 .