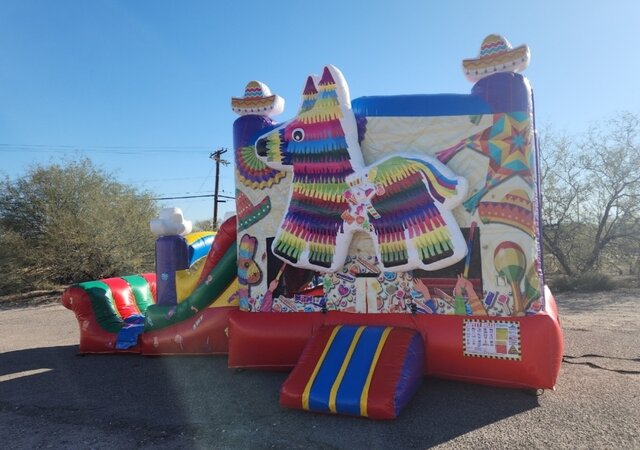 15' x 15' PIÑATA COMBO
Actual Size: 27' L x 16" W




Welcome to Wonder World Jumping Castles, your premier source for exciting party rentals in Tucson, AZ, and the surrounding areas. Prepare to add a splash of color and festive fun to your event with our fabulous 15' x 15' Piñata Combo!
Step into a world of vibrant celebration with our Piñata Combo. This inflatable marvel features a captivating 3D image of a donkey piñata on the outside, instantly setting the tone for a joyous and lively atmosphere. The rest of the inflatable is adorned with a kaleidoscope of colors, showcasing sombreros, maracas, and other festive decorations that will transport your guests to a festive fiesta.
Inside the Piñata Combo, a spacious play area awaits, inviting kids and adults alike to jump, bounce, and revel in the excitement. Release your inner child and experience the pure delight of bouncing around in this inflatable wonderland. And when it's time to exit, a thrilling slide awaits, ensuring a memorable and exhilarating departure.
Whether you're planning a birthday party, a family gathering, or a community event, our Piñata Combo is the perfect addition to enhance the fun and create lasting memories. And the best part? It can be used wet or dry, allowing you to adapt to the weather and keep the festivities going regardless of the conditions.
Don't miss out on the opportunity to bring the joy and excitement of a piñata party to your next event. Our friendly team is ready to assist you in planning an unforgettable celebration.
Wonder World is committed to serving Tucson, AZ, and the surrounding areas, providing top-notch party rentals that bring smiles and laughter to all. Book our Piñata Combo now and prepare to indulge in a vibrant fiesta that will leave your guests amazed and entertained!
Experience the thrill of a piñata party like never before with Wonder World Jumping Castles. Reserve our 15' x 15' Piñata Combo today and let the festivities begin! See more here!