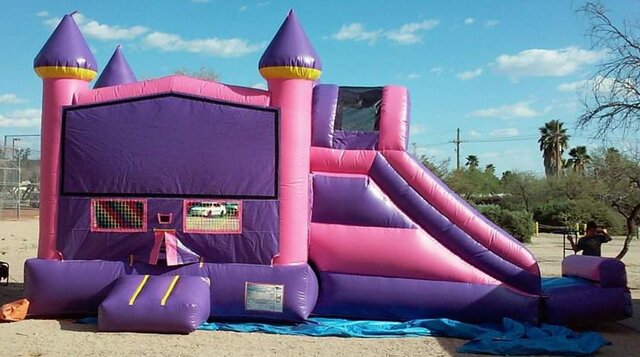 15' X 15' PINK AND PURPLE COMBO
Actual Size: 35'L x 15'W x 15'H with pool




Welcome to the enchanting world of fun and excitement with our 15' x 15' Pink and Purple Combo! Get ready to embark on an unforgettable adventure that will leave you with priceless memories.
Magical Bouncing Fun: Jump, bounce, and let your imagination soar in the spacious bounce area of our Pink and Purple Combo. Experience the joy of weightlessness as you leap and bound with endless energy.
Slide into Adventure: Prepare for an exhilarating journey as you slide down the twisting slide. Feel the rush of adrenaline as you descend with laughter and excitement, landing safely at the bottom ready for more.
Wet or Dry Thrills: Whether you prefer a refreshing water experience or a dry bouncing adventure, our combo offers the best of both worlds. Choose the wet option to attach the pool and transform your inflatable into a splashing oasis. Alternatively, enjoy the excitement and laughter in a dry environment. The choice is yours!
Vibrant Pink and Purple Delight: Immerse yourself in a world of vibrant colors with our Pink and Purple Combo. The captivating hues will ignite your imagination and create a visually stunning centerpiece for your event.
Pool Attached for Water Fun: Opt for the wet option and watch as the excitement reaches new heights. The pool attached to the slide will make a splash and bring extra delight to your adventure. Get ready for refreshing water fun!
Optional Banner: Add a personal touch to your inflatable with our banner option. Choose from our inventory of banners to complement your event theme. It's a fantastic way to make your experience even more unique and memorable.
Reserve Your Adventure: Don't miss out on the thrill and excitement of our Pink and Purple Combo. Get ready to create lifelong memories!
Unleash your inner child and let the magic of our 15' x 15' Pink and Purple Combo transport you to a world of joy and laughter. Experience the ultimate blend of bouncing, sliding, and splashing for an unforgettable adventure.
#PinkAndPurpleCombo #BouncingAdventure #WetOrDryOption #PoolFun #BannerOption #BookNow