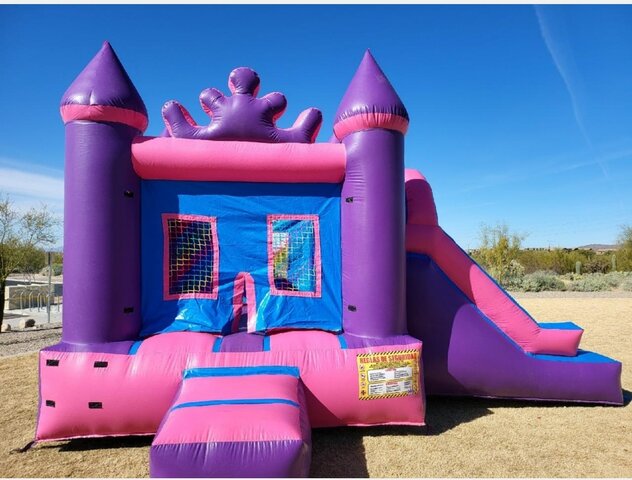 15' x 15' PINK AND PURPLE CROWN COMBO
Actual Size: 35'L x 15'W x 15'H with pool
Outlets: 1
Age Group: 5+




Welcome to Wonder World Jumping Castles, where the magic of imagination comes to life! Get ready for an enchanting experience with our 15' x 15' Pink and Purple Crown Combo. This inflatable wonderland is designed to make you feel like royalty and create memories fit for a princess.
Step into a world of vibrant colors as you enter the realm of the Pink and Purple Crown Combo. With shades of pink, purple, and blue, this inflatable masterpiece is a visual delight. As you gaze up, you'll notice a magnificent crown adorning the top, welcoming you to your jumping adventure.
Inside the castle, the fun continues with an exciting basketball hoop. Show off your slam-dunk skills and shoot for the stars as you bounce and play. Remember to bring your own ball, as the magic of the Crown Combo doesn't include one.
But the excitement doesn't end there! When it's time to make your royal exit, prepare for a thrilling slide down to the kingdom below. Feel the rush of joy as you glide gracefully down the slide. It's a majestic finale to your bouncing escapade.
Whether you're hosting a princess-themed party or simply seeking a delightful playtime adventure, the Pink and Purple Crown Combo is perfect for every occasion. And the best part? It can be enjoyed both wet and dry, adding an extra splash of fun to your day. Enjoy a wet wonderland or bounce in the sun-drenched kingdom—the choice is yours! When ordering the wet feature, a pool will be attached to the end of the slide.
At Wonder World Jumping Castles, we take pride in delivering exceptional customer service and ensuring a clean and safe environment for all our guests. We are thrilled to offer the largest selection of inflatables and inflatable games in Tucson and the surrounding areas. Your satisfaction is our top priority, and we strive to make every moment memorable.
Our website is optimized to provide a seamless booking experience, so you can easily reserve the Pink and Purple Crown Combo for your next royal celebration. Hurry and secure your preferred date, as our availability fills up quickly. Don't miss out on the chance to create magical memories with Wonder World Jumping Castles!
Visit us at www.wonderworldjumpingcastles.com and let the adventures begin. Join us in the realm of fun, laughter, and endless joy. It's time to experience the enchantment of the Pink and Purple Crown Combo at Wonder World Jumping Castles.