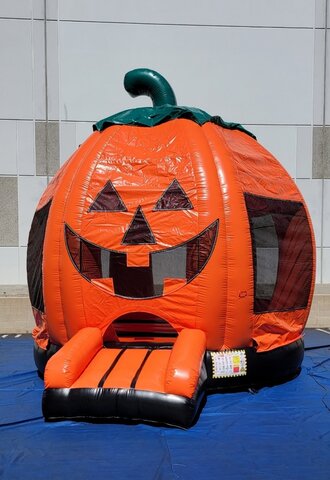 15' x 15' PUMPKIN BOUNCE HOUSE
Actual Size: 15' L x 15' W x 20' H




Step into a world of Halloween fun with our Pumpkin Themed Bounce House! This enchanting 15' x 15' inflatable attraction will add a touch of whimsy and excitement to your festive celebrations.
Magical Pumpkin Adventure: Our Pumpkin Themed Bounce House is like a giant, smiling jack-o'-lantern beckoning children to come and bounce to their heart's content. The vibrant orange design, complete with a cheerful jack-o'-lantern face "carved" out of the front, captures the spirit of Halloween and creates a memorable experience for all.
Safe and Enjoyable Fun: At Wonder World Jumping Castles, safety is our top priority. Our Pumpkin Themed Bounce House is crafted with high-quality materials and designed to provide an enjoyable bouncing experience for children of all ages. Parents can have peace of mind as their little ones embrace the excitement of the season.
Perfect for Fall Festivities: Whether you're hosting a Halloween party, a fall festival, or a school event, our Pumpkin Themed Bounce House is a fantastic addition to any autumn gathering. It brings a festive atmosphere and endless entertainment, ensuring that children have a blast while celebrating the season.
Create Spooktacular Memories: Watch as children's faces light up with joy as they enter our Pumpkin Themed Bounce House. They'll bounce, laugh, and imagine themselves in a whimsical pumpkin patch, creating spooktacular memories that will last a lifetime.
Reserve Your Pumpkin Adventure: Don't miss out on this thrilling Halloween attraction! Get ready for a bouncing experience filled with laughter, excitement, and pumpkin-themed fun!
Embrace the magic of the season with our Pumpkin Themed Bounce House. It's time to bounce into Halloween fun like never before!#PumpkinBounceHouse #HalloweenFun #FallFestivities #SpooktacularAdventure #InflatableExcitement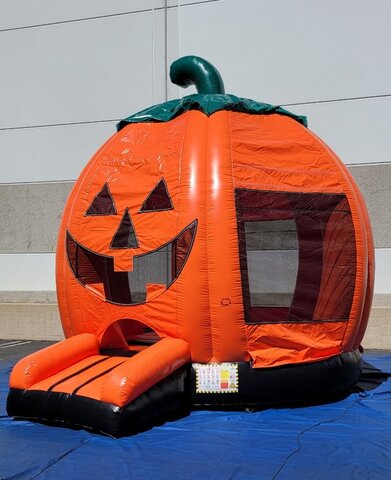 .