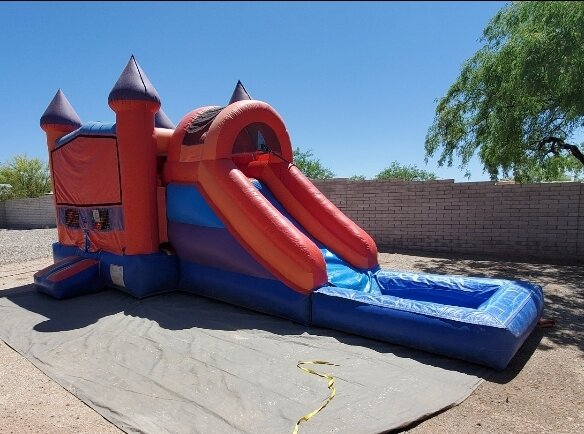 15' X 15' PURPLE, BLUE AND RED COMBO
Actual Size: 31ft L x 20ft W x 15ft H
Outlets: 1
Age Group: 5+




Welcome to the world of adventure with our captivating 15' x 15' Purple, Blue, and Red Combo! Get ready to embark on an exhilarating journey filled with excitement and endless possibilities.
Vibrant Color Spectacle: Immerse yourself in a vibrant world of colors with our Purple, Blue, and Red Combo. Its eye-catching design will ignite your imagination and add a splash of joy to any event or celebration.
Action-Packed Fun: Jump, bounce, and explore the boundless fun within the spacious bounce house area. Crawl through the round obstacle, and conquer the exciting pop-ups. Unleash your energy and let your adventurous spirit soar!
Climbing the Wall: Climb the wall with the ladder to reach the top of the slide. Get ready to slide down in a rush of excitement and triumph!
Wet or Dry Adventure: Whether you're seeking a refreshing water experience or a dry bouncing adventure, our combo has you covered. Take the fun to the next level by turning on the water feature and transforming your inflatable into a splashing oasis. Alternatively, enjoy the excitement of bouncing in a dry environment. The choice is yours!
Personalize Your Experience: Customize your inflatable adventure with our optional banner selection. Choose from our wide inventory of banners to add a personal touch and create a themed atmosphere for your event. Let your imagination run wild and make your celebration truly unforgettable.
Book Your Adventure Today: Don't miss out on the thrilling experience of our Purple, Blue, and Red Combo! Get ready to create memories that will last a lifetime!
Dive into a world of excitement and let your imagination soar with our 15' x 15' Purple, Blue, and Red Combo. Experience the thrill, conquer the obstacles, and create unforgettable moments of joy.
#ComboAdventure #ColorfulExcitement #WetOrDryOption #CustomizeYourExperience #BookNow