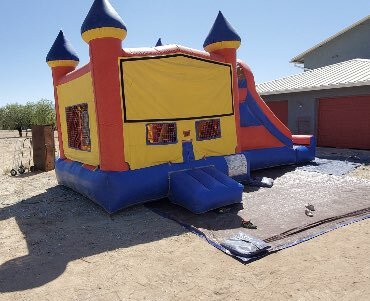 15' X 15' RED, YELLOW AND BLUE COMBO
Welcome to our website, where excitement awaits with our 15' x 15' Red, Yellow, and Blue Combo! Get ready for an action-packed adventure that will challenge your skills, ignite your competitive spirit, and create unforgettable memories.
🌈 Colorful Fun: Immerse yourself in a world of vibrant colors with our Red, Yellow, and Blue Combo. This eye-catching inflatable features additional splashes of orange and green, adding an extra dose of excitement to your playtime experience.
🏰 Thrilling Obstacles: Step inside the bouncing area and prepare to conquer the thrilling obstacles that await. Crawl through the obstacle tunnel, navigate your way around the two pop-ups, and test your basketball skills with the built-in hoop. This combo is designed to engage your agility, coordination, and determination.
🏀 Slam Dunk Action: Show off your basketball skills and channel your inner MVP with the built-in basketball hoop. Practice your jump shots, go for the perfect dunk, and feel the rush of victory as you score point after point. It's a slam dunk experience that will leave you feeling like a champion.
🧗‍♂️ Climbing Adventure: To exit the combo, embark on an exhilarating climbing adventure. Scale the wall with determination and reach the summit, then get ready for an adrenaline-pumping ride down the slide. It's a thrilling conclusion that will have you craving another round of excitement.
💦 Wet or Dry Excitement: Experience the versatility of our combo, as it can be enjoyed both wet and dry. Add a refreshing twist by transforming your playtime into a water adventure. Splash down the slide into a pool of excitement or keep it dry for an all-weather bouncing extravaganza. The choice is yours!
🎉 Reserve Your Colorful Adventure: Ready to embark on a thrilling journey of bouncing and excitement? Get ready to jump, climb, and slide into a world of fun!
Prepare for an unforgettable adventure with our 15' x 15' Red, Yellow, and Blue Combo. It's time to conquer obstacles, shoot some hoops, and slide into endless excitement!
#RedYellowBlueCombo #ObstacleAdventure #SlamDunkAction #ClimbingThrills #WetOrDryFun