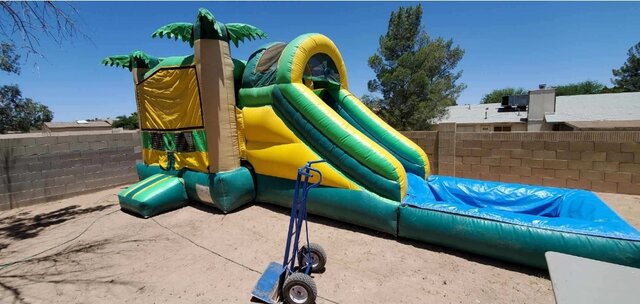 15' X 15' SINGLE LANE TROPICAL COMBO
Actual Size: 35'L x 15'W x 15'H 




Welcome to our tropical paradise with our 15' x 15' Single Lane Tropical Combo! Step into a world of vibrant colors, exciting adventures, and endless fun.
🌴 Tropical Oasis: Immerse yourself in the beauty of our yellow and green tropical-themed combo. The four turrets resemble majestic palm trees, creating a captivating atmosphere that will transport you to a sunny beach paradise.
🏰 Ultimate Playland: Enter the bounce house area and let the excitement begin! Get through the round obstacle course, conquer the two pop-ups, and test your basketball skills with the built-in hoop. The possibilities for fun and laughter are endless as you explore every corner of this inflatable wonderland.
🌊 Wet or Dry Thrills: Embrace the versatility of our Tropical Combo, as it can be enjoyed both wet and dry. Experience the thrill of sliding down into a refreshing pool when using it as a water slide, or keep it dry and bounce away to your heart's content. Rain or shine, the fun never stops!
🎉 Reserve Your Tropical Adventure: Ready to embark on an unforgettable journey of bouncing, sliding, and tropical excitement? Get ready to create memories that will make you feel like you're in a tropical paradise!
Indulge in the tropical vibes and exhilarating adventures of our 15' x 15' Single Lane Tropical Combo. With its vibrant colors, palm tree turrets, and exciting features, this inflatable masterpiece is sure to make your event a memorable success.
#TropicalCombo #AdventureAwaits #WetOrDryThrills #CreateMemories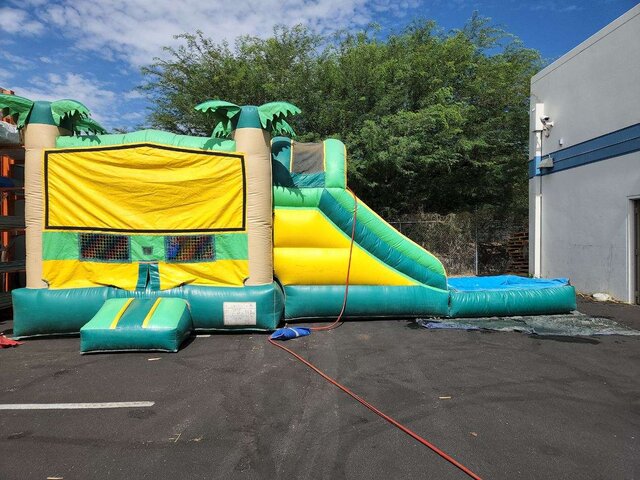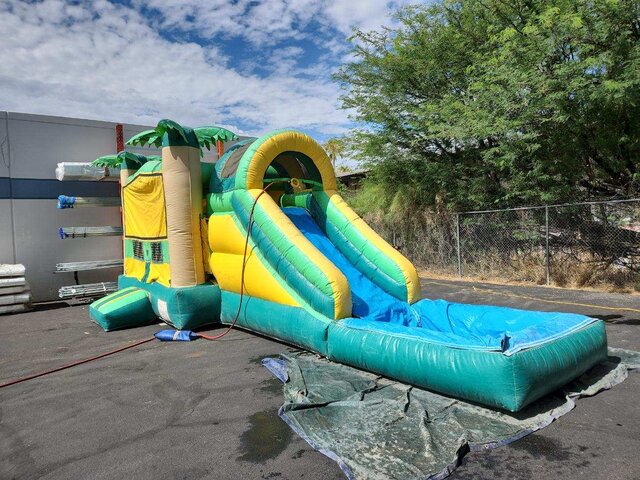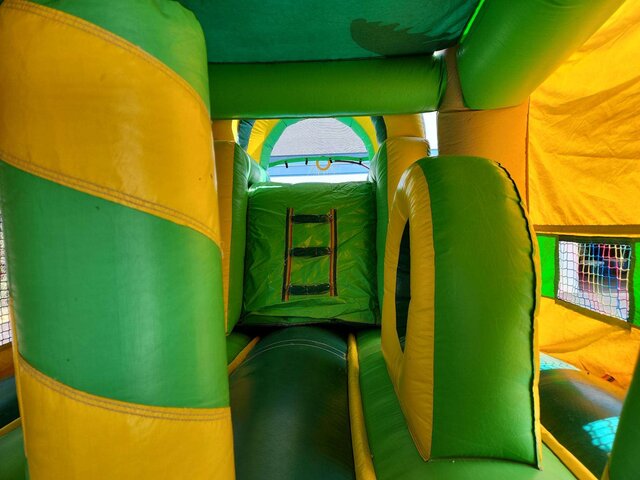 9