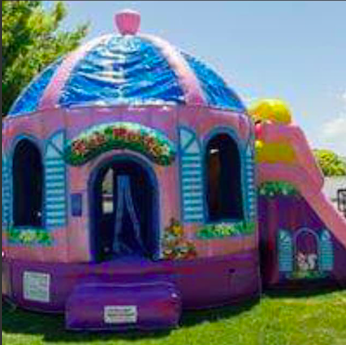 15' X 15' TEA CUP COMBO
Actual Size: 27' W x 17' L x 17" H




Welcome to our website, where imagination and fun come together! Get ready to experience the enchantment of our Tea Cup Combo, a delightful inflatable adventure that will leave you spellbound.
Sip in Style: Step into a world of whimsy with our Tea Cup Combo. The vibrant pink and blue colors create a captivating visual appeal, while a light layer of glitter infused in the vinyl adds a touch of magic to every bounce and slide.
Magical Tea Cup Castle: Enter our enchanting tea cup-shaped castle, complete with adorable cutouts that resemble charming windows with shutters and window boxes. It's like stepping into a fairytale, where every moment is filled with wonder and excitement.
Jump and Slide: Bounce, jump, and let your imagination soar in the spacious jumping area. Feel the thrill as you bounce higher and higher, surrounded by the whimsical tea cup design. When it's time to exit, glide down the slide and embrace the exhilaration of your inflatable adventure.
Wet or Dry Delight: Customize your experience with our versatile wet or dry option. Choose to make a splash in the attached pool for a refreshing water escapade, or enjoy the excitement of bouncing and sliding in a dry environment. The choice is yours!
Infused with Magic: Experience the joy of bouncing on an inflatable infused with a light layer of glitter. The shimmering effect adds a touch of sparkle and creates a magical atmosphere that will captivate both children and adults alike.
Unleash Your Imagination: Let your imagination run wild and create unforgettable memories with our Tea Cup Combo. Whether it's a birthday party, family gathering, or special event, this inflatable attraction promises hours of endless fun and laughter.
Book Your Tea Cup Adventure: Ready to embark on a magical inflatable journey? Get ready to create extraordinary moments that will be cherished forever!
Indulge in the wonder of our Tea Cup Combo, where every jump, slide, and laugh creates a cherished memory. Don't miss out on the enchantment - reserve your spot today!
#TeaCupCombo #InflatableAdventure #WetOrDryOption #MagicalExperience #BookNow