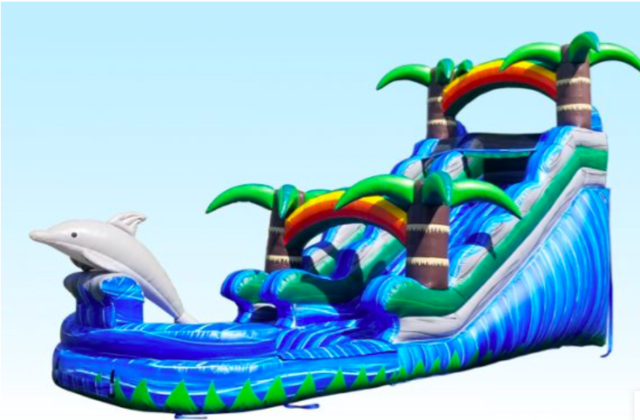 16 FT DOLPHIN SLIDE
Actual Size: 32 × 12 × 16




Welcome to Wonder World Jumping Castles, your go-to destination for thrilling adventures in Tucson, AZ, and the surrounding areas. Prepare to dive into a world of excitement with our incredible 16' Dolphin Slide!
Picture yourself surrounded by the shimmering blue waters of the ocean as you embark on this aquatic adventure. Our 16' Dolphin Slide is designed to transport you to a coastal paradise, complete with a mesmerizing blue marble slide that perfectly captures the essence of water.
As you make your way to the top of the slide, you'll be greeted by two majestic palm trees swaying gently in the breeze, adding a touch of tropical charm to your experience. But the real star of the show awaits you at the front of the unit – a playful dolphin jumping out of the water, ready to guide you on your thrilling descent.
With its single slider design, this slide guarantees a thrilling ride tailored just for you. As you slide down, feel the rush of excitement and the cool breeze against your face, as if you're gliding through the ocean waves alongside your new dolphin friend.
The blue marble slide not only provides a visually stunning backdrop but also enhances the sense of sliding through water, immersing you in an exhilarating aquatic experience. Whether you choose to enjoy the slide dry or add some refreshing splashes with the wet option, the choice is yours.
At Wonder World Jumping Castles, safety is paramount. Rest assured that our 16' Dolphin Slide is meticulously maintained and built to the highest standards, ensuring a safe and secure experience for every participant. Your enjoyment and well-being are our top priorities.
Serving Tucson, AZ, and the surrounding areas, we bring the excitement of our Dolphin Slide directly to your special events. Whether it's a backyard party, a school function, or a community celebration, our slide is the perfect addition to create unforgettable memories.
Don't miss out on this unforgettable aquatic adventure! Visit our website at www.wonderworldjumpingcastles.com today to reserve your 16' Dolphin Slide. Get ready to dive into fun, laughter, and create memories that will last a lifetime in our oceanic wonderland!