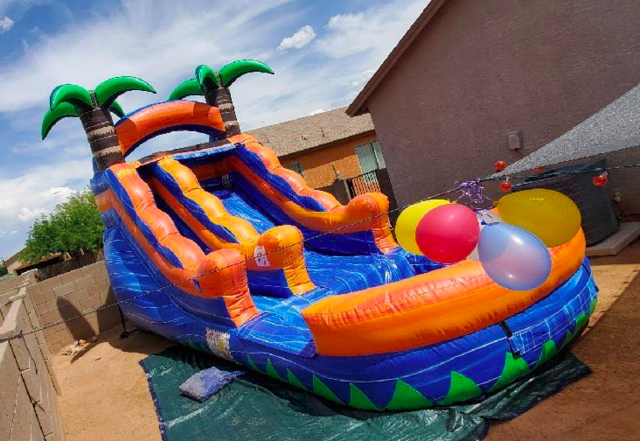 16 FT ORANGE TROPICAL SLIDE
Discover a splash-tastic adventure in the heart of Tucson, AZ, and the surrounding areas with Wonder World Jumping Castles' 16' Orange Tropical Slide! Get ready to experience the ultimate thrill as you slide down our vibrant and exciting inflatable masterpiece.
Our 16' Orange Tropical Slide is a sight to behold, with its striking combination of blue and orange hues that immediately transport you to a tropical paradise. As you make your way to the top of the slide, you'll be greeted by two majestic palm trees, swaying gently in the imaginary breeze, adding a touch of island charm to your exhilarating journey.
Prepare to take on the slide solo as it's designed for one rider at a time, allowing you to embrace the thrill and excitement all to yourself. Take your position at the top, feel the anticipation building, and get ready to zoom down the slide at lightning speed.
As you descend, the rush of adrenaline takes over, and a feeling of pure exhilaration washes over you. Experience the sheer joy of sliding through the refreshing cascades of water or conquer the dry slide option for an equally thrilling adventure.
At Wonder World Jumping Castles, we take pride in offering an extensive selection of high-quality and meticulously maintained inflatables. Your safety and enjoyment are our top priorities, so you can slide with confidence and create lasting memories.
Whether you're hosting a birthday party, a corporate event, or a neighborhood gathering, our 16' Orange Tropical Slide is the perfect addition to take your celebration to the next level. It's an invitation to dive into a world of fun and excitement that will leave you with unforgettable moments.
Don't miss out on the chance to bring the tropical vibes to your next event. Visit our website at www.wonderworldjumpingcastles.com and reserve the 16' Orange Tropical Slide today. Our availability is limited, so secure your spot and prepare for a splash-tacular adventure!
Join us at Wonder World Jumping Castles, where the excitement never ends, and every slide takes you on an unforgettable journey. Book your 16' Orange Tropical Slide now and make a splash with the ultimate inflatable experience. Let the sliding fun begin!