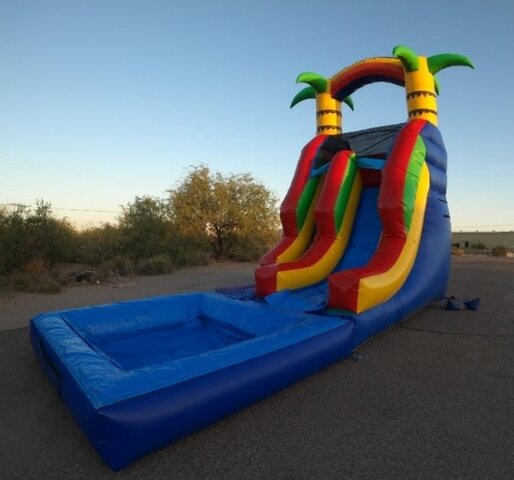 16 FT PINEAPPLE TROPICAL SLIDE
Welcome to Wonder World Jumping Castles, your premier destination for unforgettable adventures in Tucson, AZ, and the surrounding areas. Prepare to be whisked away to a tropical paradise with our amazing 16' Pineapple Tropical Slide!
Imagine the sun shining, a gentle breeze, and the sound of laughter filling the air as you embark on this thrilling slide. Our 16' Pineapple Tropical Slide is a burst of vibrant colors, featuring shades of red, yellow, green, and blue that will instantly transport you to a tropical wonderland.
At the very top of the slide, you'll find two majestic palm trees swaying in the breeze, adding a touch of island charm to your experience. Feel the excitement building as you climb higher, knowing that an exhilarating adventure awaits you.
Once you reach the summit, take a moment to catch your breath and soak in the stunning views of the surrounding area. Then, get ready to slide down in style! With its single slider design, this slide is perfect for those who want to enjoy a thrilling ride all to themselves.
As you descend, feel the rush of adrenaline as you zoom through twists and turns, descending towards the ground below. The vibrant colors and tropical theme create an immersive experience that will make you feel like you're sliding through a pineapple paradise.
Whether you choose to use the slide in its dry form for a classic sliding experience or add some refreshing fun with the wet option, the choice is yours. Our 16' Pineapple Tropical Slide can be enjoyed in any way you prefer, guaranteeing hours of excitement and joy.
Safety is our top priority at Wonder World Jumping Castles. Our slide is meticulously maintained and designed with the utmost care, ensuring a safe and secure experience for all participants. You can focus on having fun, knowing that your safety is in good hands.
We proudly serve Tucson, AZ, and the surrounding areas, bringing the thrill of our Pineapple Tropical Slide directly to your events and celebrations. Whether it's a backyard gathering, a birthday party, or a community event, our slide will be the highlight, creating unforgettable memories for everyone.
Don't miss out on the tropical adventure of a lifetime! Visit our website at www.wonderworldjumpingcastles.com to reserve your 16' Pineapple Tropical Slide today. Get ready to slide, laugh, and create memories that will be cherished for years to come in our tropical paradise!