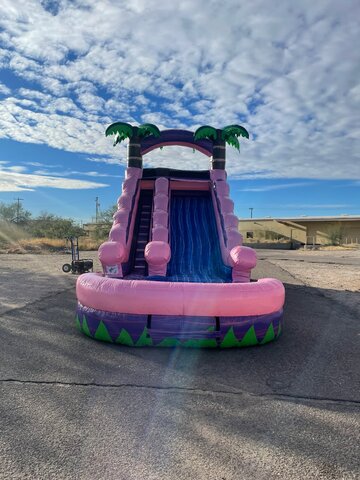 16 FT PINK AND PURPLE TROPICAL SLIDE
Actual Size: 26'L x 12'W x 16'H 




Welcome to Wonder World Jumping Castles, your premier destination for unforgettable adventures in Tucson, AZ, and the surrounding areas. Get ready to embark on an extraordinary journey with our enchanting 16' Pink and Purple Tropical Slide!
Step into a world of vibrant colors and tropical delights as you encounter our mesmerizing slide. This captivating masterpiece showcases a delightful combination of pink and purple hues, creating an atmosphere of pure joy and excitement. With a subtle pattern resembling the shimmering ripples of water, it's as if you're sliding down a cascade of tropical dreams.
At the very top of the slide, you'll be greeted by two magnificent palm trees, swaying gently in the breeze. Their presence adds a touch of paradise to your adventure, setting the stage for an unforgettable sliding experience.
Our 16' Pink and Purple Tropical Slide is designed for the ultimate thrill-seeker. As you take your place at the top, anticipation fills the air. With a single slider configuration, you're in for an exhilarating journey tailor-made just for you. Feel the adrenaline rush as you zoom down the slide, embracing the pure excitement and freedom of the moment.
Whether you choose to embark on a dry escapade or add some refreshing splashes with the wet option, the choice is yours. This versatile slide allows you to customize your adventure and create the perfect experience to suit your preferences.
At Wonder World Jumping Castles, safety is our utmost priority. Our 16' Pink and Purple Tropical Slide undergoes rigorous maintenance and adheres to the highest safety standards. You can rest assured that you'll enjoy a secure and worry-free sliding experience, focusing solely on the exhilaration and joy of the ride.
Serving Tucson, AZ, and the surrounding areas, we bring the excitement of our Pink and Purple Tropical Slide straight to your special events. Whether it's a birthday party, a family gathering, or a community celebration, our slide is the perfect addition to create magical moments and lasting memories.
Don't miss out on this extraordinary sliding adventure! Visit our website at www.wonderworldjumpingcastles.com today to reserve your 16' Pink and Purple Tropical Slide. Get ready to slide into a world of fun, laughter, and unforgettable experiences in our tropical paradise!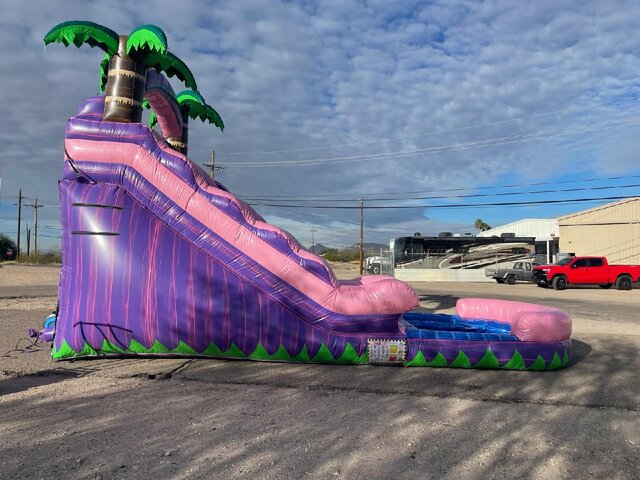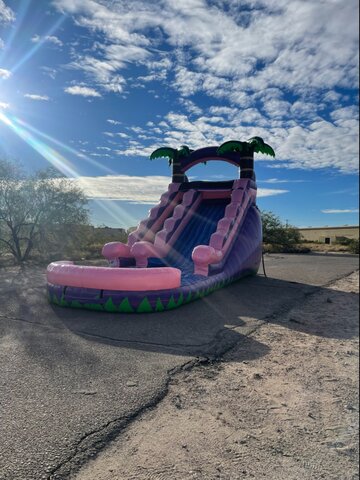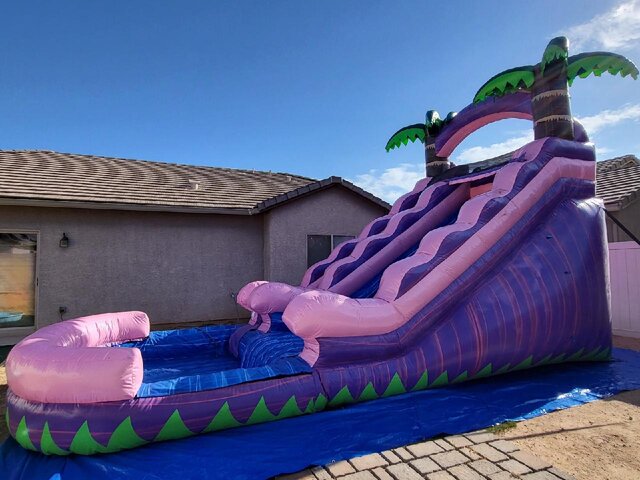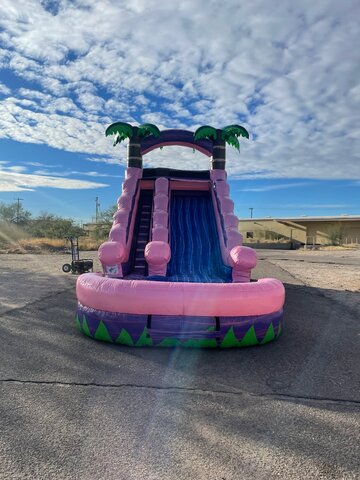 .