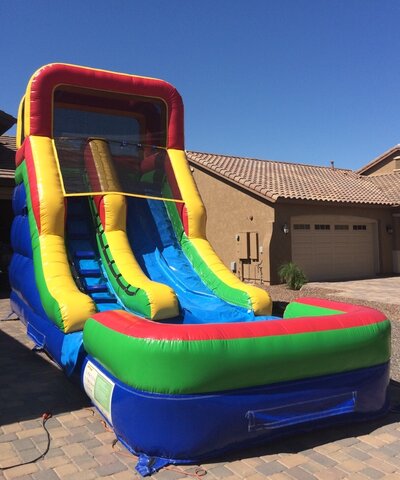 16 FT RAINBOW SLIDE
Actual Size: 26'L x 12'W x 16'H 




Get ready for a vibrant and exhilarating ride with Wonder World Jumping Castles' 16' Rainbow Slide! Serving Tucson, AZ, and the surrounding areas, we bring you a burst of color and endless fun that will leave you breathless.
Our 16' Rainbow Slide is a kaleidoscope of excitement, featuring brilliant shades of red, yellow, green, and blue. As you approach the towering slide, you'll be captivated by the mesmerizing spectrum of colors, beckoning you to embark on a thrilling adventure.
Step up to the challenge and prepare for a heart-pounding experience as you take on the slide one rider at a time. Feel the rush of adrenaline as you climb to the top, eager to dive into an unforgettable journey of pure joy and excitement.
As you launch yourself down the slide, the world around you becomes a blur of vibrant hues, immersing you in a whirlwind of exhilaration. Whether you choose the wet or dry option, the thrill of the descent will leave you craving for more.
At Wonder World Jumping Castles, your safety is our utmost priority. Our 16' Rainbow Slide is meticulously maintained to ensure a secure and enjoyable experience for all. So, go ahead, let your worries slide away, and focus on the sheer thrill of the ride.
Are you ready to add a splash of color and excitement to your next event? Look no further than Wonder World Jumping Castles. Whether it's a birthday celebration, a corporate gathering, or a community festival, our 16' Rainbow Slide guarantees endless laughter and unforgettable memories.
Don't let the opportunity slip away! Visit our website at www.wonderworldjumpingcastles.com to book the 16' Rainbow Slide today. With limited availability, make sure to secure your spot and be prepared for an adventure like no other.
Join us at Wonder World Jumping Castles, where every slide is a rainbow of happiness and every moment is filled with pure delight. Book your 16' Rainbow Slide now and let the colors of fun paint your world!