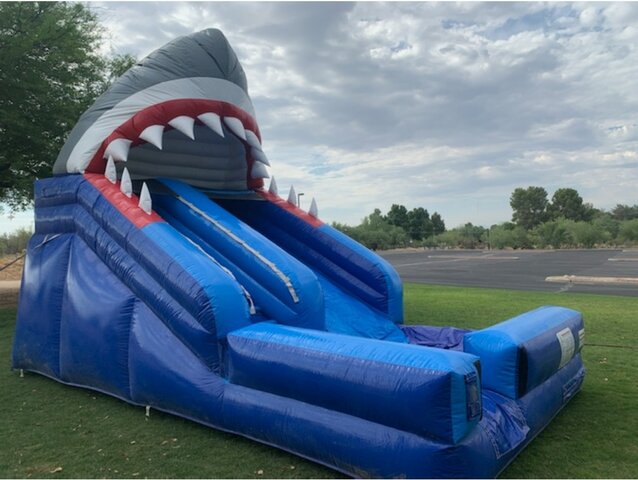 16 FT SHARK SLIDE WITH POOL
Actual Size: 32 'L x 17' W x 18' H




Dive into an ocean of excitement with Wonder World Jumping Castles' 16' Shark Slide! Serving Tucson, AZ, and the surrounding areas, we bring you a thrilling adventure that will make a splash at your next event.
Prepare to face the jaws of the ocean's most fearsome predator as you approach our 16' Shark Slide. At the top of the slide, you'll encounter a giant great white shark with its mouth wide open, ready for an adrenaline-pumping experience. Get ready for an unforgettable adventure that will leave you with a big smile and a heart full of excitement.
As you climb the steps, it feels like you're venturing into the mouth of the shark. The design creates an immersive experience, where every step builds anticipation for the epic slide ahead. Get your adrenaline pumping as you enter the mouth of the shark and prepare to slide out with a rush of exhilaration.
The slide is designed for one rider at a time, giving you the chance to embark on this thrilling journey all by yourself. Feel the excitement build as you make your way to the top, knowing that the ultimate adventure awaits.
Whether you choose to ride wet or dry, the 16' Shark Slide guarantees endless fun and laughter. It's the perfect addition to birthday parties, corporate events, or any occasion where you want to make a big splash.
At Wonder World Jumping Castles, safety is our utmost priority. Our 16' Shark Slide is meticulously maintained, ensuring a secure and enjoyable experience for all. We take pride in delivering exceptional service and creating unforgettable memories.
Don't miss the opportunity to bring the thrill of the ocean to your next event. Visit our website at www.wonderworldjumpingcastles.com to book the 16' Shark Slide today. Availability is limited, so secure your spot now and get ready for an adventure that will leave you jaws-droppingly amazed.
Join us at Wonder World Jumping Castles, where every slide is a journey into imagination, and every moment is filled with pure joy. Book your 16' Shark Slide now and get ready to dive into a world of excitement!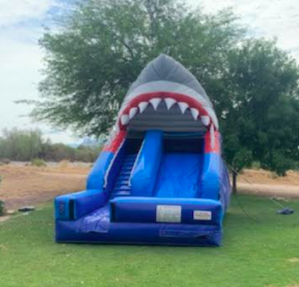 .