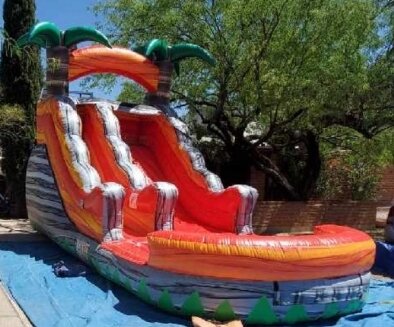 16 FT TROPICAL SLIDE
Actual Size: 27 × 11 × 16 




Welcome to Wonder World Jumping Castles, your ultimate destination for thrilling adventures in Tucson, AZ, and the surrounding areas. Get ready to experience the excitement and wonder of our 16' Tropical Slide!
Prepare to be transported to a tropical paradise as you set foot on our vibrant and exhilarating slide. With its vibrant orange and grey design, our 16' Tropical Slide is a visual delight that will captivate both kids and adults alike. Feel the warmth of the sun and embrace the tropical vibes as you embark on this unforgettable ride.
As you ascend the steps, you'll be greeted by two majestic palm trees standing tall on either side of the slide, adding an extra touch of paradise to your adventure. Take a moment to imagine yourself in a lush island paradise, surrounded by the beauty of nature and the thrill of the slide.
Once you reach the top, take a deep breath and prepare for an exhilarating ride down. With a single lane dedicated to your excitement, you can slide at your own pace, savoring every moment of the thrilling descent. Feel the rush of adrenaline as you glide effortlessly towards the bottom, leaving a trail of excitement in your wake.
Whether you choose to enjoy the slide on a sunny day or add an extra splash of fun with the wet option, our 16' Tropical Slide guarantees hours of entertainment for everyone. Cool off and make a splash as you embrace the refreshing water cascading down the slide, turning your adventure into a tropical oasis.
At Wonder World Jumping Castles, safety is our utmost priority. Our 16' Tropical Slide is designed with your well-being in mind, featuring durable materials and rigorous maintenance to ensure a safe and secure experience for all. You can focus on the fun while we take care of the rest.
We proudly serve Tucson, AZ, and the surrounding areas, bringing the joy of our Tropical Slide directly to your doorstep. From backyard parties to community gatherings and special events, our slide will be the highlight of any occasion, creating memories that will last a lifetime.
Don't miss out on the tropical adventure that awaits you! Visit our website at www.wonderworldjumpingcastles.com to reserve your 16' Tropical Slide today. Get ready to slide, laugh, and create unforgettable moments in the tropical paradise of your dreams.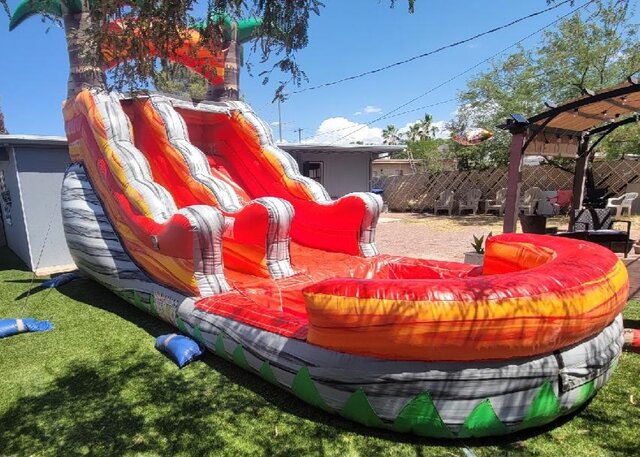 .