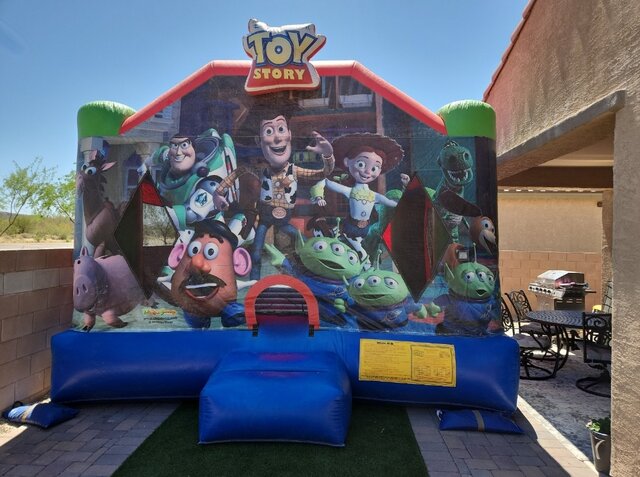 16' x 16' TOY STORY INFLATABLE
Step into the magical world of Toy Story with our 16' x 16' Toy Story Bounce House! This inflatable attraction is an absolute delight for kids and fans of Woody, Buzz Lightyear, and all their beloved friends. Get ready for an adventure like no other!
Adventure Awaits: The front of our Toy Story bounce house features a vibrant and captivating image of the iconic Toy Story characters, instantly bringing the magic of the movies to life. Let your imagination soar as you jump, play, and create your own Toy Story adventures.
Colorful Fun: Bursting with a kaleidoscope of colors, our Toy Story bounce house creates an exciting and immersive environment. The combination of bright blues, yellows, and reds adds an extra layer of vibrancy to your event, making it a visual spectacle that kids will love.
Wet or Dry Thrills: No matter the weather, the Toy Story Bounce House offers endless fun. You have the option to use it wet or dry, making it perfect for summertime water play or dry bouncing excitement. Let your little ones choose their preferred mode of play and embark on Toy Story-inspired escapades.
Unleash Imagination: Inspired by the beloved characters of Toy Story, this bounce house encourages imaginative play and creativity. Kids can pretend to be Woody, Buzz Lightyear, or any of their favorite toys as they bounce, jump, and make lasting memories.
Safe and Secure: Safety is our top priority. Our Toy Story bounce house is designed with the utmost care and attention to detail, ensuring a safe and enjoyable experience for children. Parents can have peace of mind knowing that their little ones are bouncing in a secure environment.
Reserve Your Toy Story Adventure: Ready to bring the magic of Toy Story to your event? Get ready for a toy-tastic experience that will leave everyone smiling.
Join Woody, Buzz, and their friends in an unforgettable bouncing adventure with our Toy Story Bounce House. At Wonder World Jumping Castles, we're here to make your event truly extraordinary.
#ToyStoryBounceHouse #AdventureAwaits #WetOrDryPlay #ImaginativeFun #InflatableExcitement