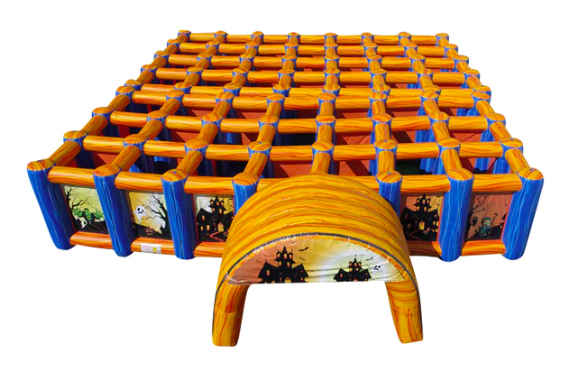 2000 SQ FT INFLATABLE MAZE
Actual Size: 40'W x 50'L x 10'H 
Setup Area: 44'W x 54'L x 12'H
Outlets: 2
Age Group: All ages




Introducing Wonder World Jumping Castles' newest attraction - the 2000 Sq Ft Inflatable Maze! Delve into a world of adventure and excitement with our sprawling inflatable maze designed to captivate thrill-seekers of all ages.
Spanning an expansive 2000 square feet, this maze offers an exhilarating journey through twists, turns, and surprises at every corner. What sets it apart is its unique feature of interchangeable banners on the outside, allowing for seamless customization to suit different seasons or themes.
Navigating through this inflatable wonderland is an experience to remember, as adventurers explore and conquer the maze's intriguing pathways. An entrance and exit through the same opening ensure an immersive experience from start to finish, adding an extra layer of challenge and excitement.
Perfect for birthday parties, seasonal celebrations, community events, and more, this maze promises endless fun and entertainment. It's an interactive, engaging attraction that sparks curiosity and encourages exploration.
Step inside and get lost in the excitement! Book our 2000 Sq Ft Inflatable Maze and embark on an unforgettable adventure filled with twists, turns, and thrilling discoveries.