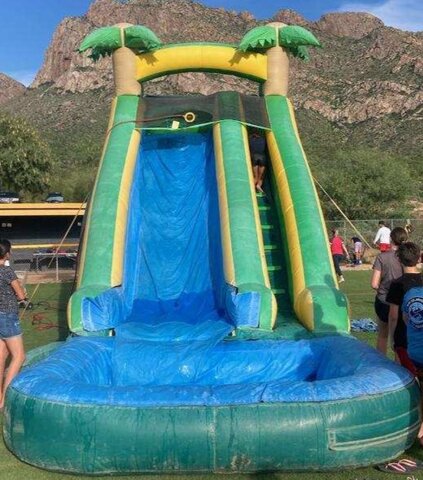 20 FT TROPICAL SLIDE
Actual Size: 34'L x 11'W x 20'H




Welcome to Wonder World Jumping Castles, your go-to destination for unforgettable adventures in Tucson, AZ, and the surrounding areas. Get ready to embark on a tropical escapade with our magnificent 20' Tropical Slide!
Our 20' Tropical Slide is the epitome of excitement and thrills. With its vibrant green, yellow, and blue exterior, this slide will transport you to a tropical paradise where the fun never ends. As you climb to the top, you'll be greeted by two majestic palm trees, adding an extra touch of island vibes to your experience.
Whether you choose to slide down wet or dry, the exhilaration is guaranteed. Imagine the rush of sliding through the refreshing water, feeling the splash as you descend into the pool below. Or, if you prefer a dry adventure, conquer the thrilling slide with speed and skill, enjoying every twist and turn along the way.
At Wonder World Jumping Castles, safety is paramount. Our 20' Tropical Slide is meticulously maintained and constructed with high-quality materials to ensure a secure and enjoyable experience for all. We prioritize your well-being so you can focus on having the time of your life.
Perfect for birthday parties, family gatherings, or corporate events, our 20' Tropical Slide is a crowd-pleaser that will leave everyone with unforgettable memories. Watch as laughter fills the air and excitement builds with each slide down this tropical masterpiece.
Experience the magic of our 20' Tropical Slide by booking now at www.wonderworldjumpingcastles.com. Don't miss your chance to create a tropical paradise right in your own backyard. Availability is limited, so secure your spot today and get ready for an adventure that will transport you to a world of fun and joy.
Join us at Wonder World Jumping Castles, where every slide is a gateway to endless laughter and cherished moments. Book our 20' Tropical Slide now and let the tropical paradise come to you. Get ready to slide into pure happiness!