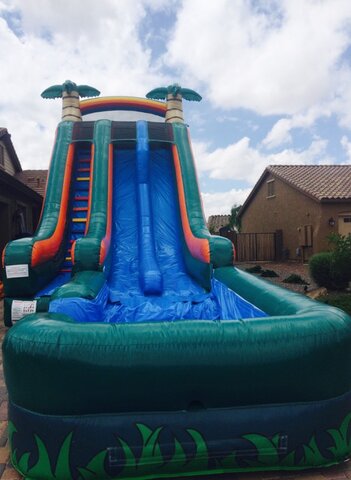 22 FT DUAL LANE SLIDE
Actual Size: 39'L x 14'W x 22'H 




Welcome to Wonder World Jumping Castles, your ultimate destination for incredible adventures in Tucson, AZ, and the surrounding areas. Get ready to take your excitement to new heights with our thrilling 22' Dual Lane Slide!
Our 22' Dual Lane Slide is the epitome of fun and exhilaration. With its vibrant green, yellow, and blue design, this slide will capture your imagination and transport you to a world of endless excitement. As you climb to the top, you'll be greeted by two magnificent palm trees, standing tall on either side of the slide, creating a tropical atmosphere that adds to the thrill.
Designed for double the action, our dual lane slide allows you and a friend to race side by side, competing for the ultimate victory. Who will be the first to slide down and reach the finish line? The adrenaline will pump through your veins as you glide down, feeling the rush of the wind and the thrill of the descent.
Whether you choose to make a splash with a wet slide or keep it dry for a high-speed adventure, our 22' Dual Lane Slide guarantees an unforgettable experience for all. Our top priority is your safety, and our slide is meticulously maintained to ensure a secure and worry-free ride every time.
Make your next event extraordinary with our 22' Dual Lane Slide. It's the perfect addition to birthday parties, family reunions, company picnics, and any other celebration where laughter and excitement are the main ingredients. Watch as your guests light up with joy, competing, and creating memories that will last a lifetime.
At Wonder World Jumping Castles, we bring the fun to you. Serving Tucson, AZ, and the surrounding areas, we are dedicated to delivering top-notch entertainment that will leave you with smiles and laughter. Book our 22' Dual Lane Slide now at www.wonderworldjumpingcastles.com to secure your spot and experience the thrill of racing down this incredible slide.
Join us at Wonder World Jumping Castles, where every adventure is an opportunity to make lasting memories. Don't miss out on the fun—book our 22' Dual Lane Slide today and get ready to slide into a world of excitement and laughter!