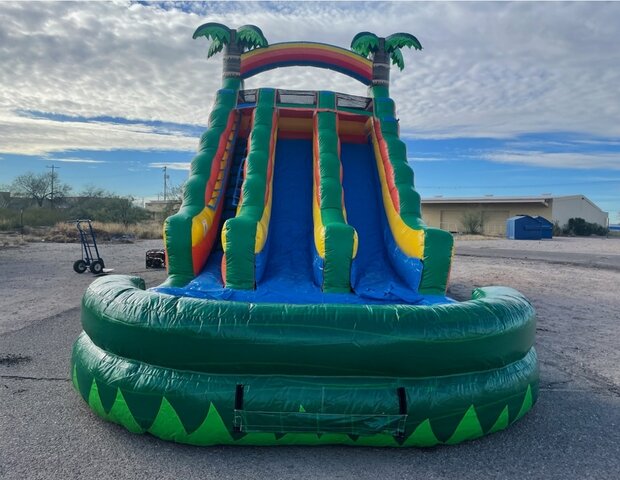 22 FT TROPICAL GREEN, ORANGE, AND YELLOW
Actual Size: 39'L x 14'W x 22'H




Welcome to Wonder World Jumping Castles, your go-to destination for unforgettable adventures in Tucson, AZ, and the surrounding areas. Prepare yourself for an epic sliding experience with our incredible 22' Tropical Slide!
Get ready to be immersed in a world of vibrant colors as you set your sights on our magnificent slide. With its striking combination of green, orange, and yellow, this tropical paradise will transport you to a world of fun and excitement. As you ascend to the top, two majestic palm trees stand tall, beckoning you to embark on an exhilarating journey.
Our 22' Tropical Slide is specially designed for those seeking the ultimate thrill. With its dual lane configuration, you and a friend can race side by side, competing for the title of slide champion. Feel the rush of adrenaline as you slide down, the wind rushing through your hair and the excitement building with every passing second.
Whether you choose to conquer this magnificent slide on a dry day or add a refreshing twist by turning on the water, the choice is yours. This versatile slide is perfect for both wet and dry adventures, allowing you to customize your experience and create unforgettable memories.
At Wonder World Jumping Castles, safety is our top priority. Rest assured that our 22' Tropical Slide is meticulously maintained and built to the highest safety standards. We want you to enjoy your sliding experience worry-free, focusing solely on the thrill and joy of the ride.
Serving Tucson, AZ, and the surrounding areas, we bring the excitement of our 22' Tropical Slide straight to your special events. Whether it's a birthday party, a family gathering, or a community celebration, our slide is the perfect addition to create unforgettable moments.
Don't miss out on this epic sliding adventure! Visit our website at www.wonderworldjumpingcastles.com today to reserve your 22' Tropical Slide. Get ready to slide into a world of fun, laughter, and incredible memories in our tropical wonderland!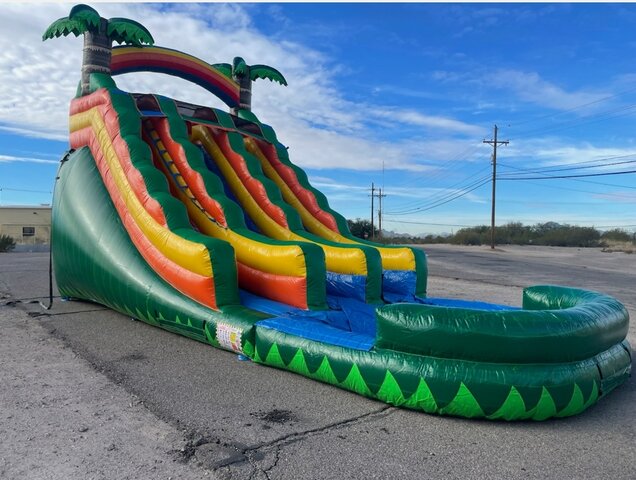 .