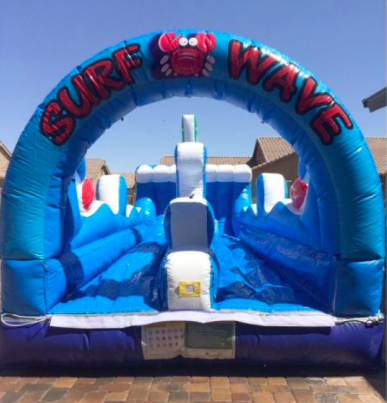 30' DUAL LANE SLIP-N-SLIDE
Actual Size: 32' x 11' x 8'




Welcome to Wonder World Jumping Castles, your premier destination for thrilling and refreshing party experiences in Tucson, AZ, and the surrounding areas. Prepare to make a splash with our incredible 30' Dual Lane Slip-N-Slide!
When the sun is shining and the temperatures rise, there's no better way to beat the heat than with our beach-themed Slip-N-Slide. This amazing inflatable slide allows not one, but two participants to run, dive, and belly slide over a whopping 30 feet of exhilarating fun. It's double the excitement and double the laughter!
Immerse yourself in the beach atmosphere as you glide along the blue and white slide, with sides designed to resemble gentle rolling waves. Marvel at the vibrant fish adorning the sides, creating a whimsical underwater adventure. And don't forget the surfboard – a perfect prop to enhance the beach experience and make you feel like a true surfer catching a wave!
As you reach the end of the slide, be prepared for the grand finale – a back shaped like a thrilling tidal wave. This special design element not only adds a touch of realism to the slide but also helps you come to a safe and controlled stop, allowing you to gracefully exit on the side.
Our Slip-N-Slide is an ideal addition to any event where staying cool and having a blast are the top priorities. Whether you're hosting a summer party, a beach-themed celebration, a community gathering, or a company picnic, this inflatable slide is guaranteed to provide endless hours of fun and excitement for all ages.
At Wonder World Jumping Castles, we pride ourselves on delivering top-notch entertainment that ensures unforgettable experiences. Our 30' Dual Lane Slip-N-Slide is meticulously maintained and built to the highest standards of safety and quality, ensuring a worry-free and enjoyable time for everyone involved.
To reserve the 30' Dual Lane Slip-N-Slide for your upcoming event, simply reach out to our friendly team at [phone number] or visit our website. We'll handle the setup and take care of all the details, so you can focus on creating amazing memories with your guests.
Don't let the Arizona heat get you down – dive into the ultimate water adventure with our Slip-N-Slide and make a splash at your next gathering. Book with Wonder World Jumping Castles today and prepare for a wet and wild experience like no other!
Remember, when it comes to unforgettable events and cool summer fun, Wonder World Jumping Castles has got you covered. Serving Tucson, AZ, and surrounding areas, we're your trusted partner in making your celebrations extraordinary.