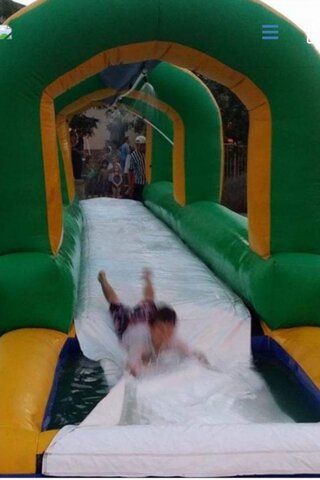 30' SINGLE LANE SLIP-N-SLIDE
Actual Size: 30L x 10W x 10H




Welcome to Wonder World Jumping Castles, your go-to destination for exhilarating fun in Tucson, AZ, and the surrounding areas! Get ready to beat the heat and make a splash with our incredible 30' Single Lane Slip-N-Slide.
When the sun is blazing, there's no better way to cool off and enjoy the outdoors than with our thrilling Slip-N-Slide. Designed with the utmost comfort and safety in mind, this single lane inflatable slip and slide will take your summer fun to new heights!
Kids of all ages will delight in the exhilarating sensation of gliding down the slippery slope, as they enjoy the refreshing splash and laughter-filled moments along the way. With our Slip-N-Slide, there's no need to worry about hard turf or uncomfortable landings. The integrated bounce house adds an extra layer of excitement and cushioning, ensuring a smooth and enjoyable sliding experience for everyone.
Safety is our top priority at Wonder World Jumping Castles. Rest assured that our Slip-N-Slide is meticulously designed to provide a secure landing zone, keeping your little ones protected as they make a splash. With vibrant green, blue, and yellow colors, our Slip-N-Slide adds a visually captivating element to any event, creating an atmosphere of endless fun and joy.
At Wonder World Jumping Castles, we take pride in delivering exceptional service and unforgettable experiences. As a trusted provider of inflatable entertainment, we are committed to ensuring your complete satisfaction. We serve Tucson, AZ, and the surrounding areas, bringing the excitement of our 30' Single Lane Slip-N-Slide right to your doorstep.
Planning a birthday party, neighborhood gathering, or corporate event? Our Slip-N-Slide is the perfect addition to make your occasion a memorable one. Let the laughter and splashes fill the air as kids and adults alike embrace the refreshing thrill of sliding down our inflatable masterpiece.
To book our 30' Single Lane Slip-N-Slide and add a splash of excitement to your upcoming event, simply book online today. Our friendly and knowledgeable team is ready to assist you in selecting the right package to meet your specific needs. Hurry and secure your spot, as our Slip-N-Slide is in high demand!
Don't let the scorching summer sun spoil your fun. Cool off, slide, and make unforgettable memories with Wonder World Jumping Castles. Contact us now to reserve the 30' Single Lane Slip-N-Slide and explore our wide range of other thrilling inflatable attractions.
Please note: Safety is our utmost priority. Adult supervision is required at all times to ensure the well-being of participants. Let's create a safe and enjoyable environment for everyone involved.
Experience the ultimate slip and slide adventure with Wonder World Jumping Castles. Book your 30' Single Lane Slip-N-Slide today and get ready to slide into a world of excitement!