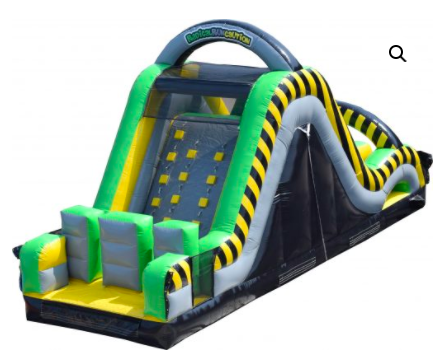 32' RADICAL RUN CAUTION DUAL LANE OBSTACLE COURSE
Welcome to Wonder World Jumping Castles, your go-to destination for thrilling party experiences in Tucson, AZ, and the surrounding areas. Get ready to unleash your inner adventurer with our exhilarating 32' Radical Run Dual Lane Caution Obstacle Course!
Prepare to tackle a challenging journey filled with twists, turns, and heart-pounding excitement. As you enter the obstacle course, you'll face a series of blockers that will put your agility and quick reflexes to the test. Dodge, weave, and maneuver your way through these obstacles, all while keeping your eyes on the prize—the towering rock wall that awaits you.
Summon your strength and determination as you conquer the rock wall, climbing to new heights with the thrill of victory within reach. Feel the rush of adrenaline as you scale the wall and reach the pinnacle. But the adventure doesn't end there! Brace yourself for an adrenaline-fueled descent down the other side of the slide, propelling you towards the exhilarating finish line.
Our 32' Radical Run Dual Lane Caution Obstacle Course is designed for friendly competition, with two participants racing side by side to see who can conquer the course with the fastest time. Unleash your competitive spirit and embrace the challenge as you strive for victory and the ultimate bragging rights.
The obstacle course showcases a striking color palette of grey, green, and yellow, adorned with eye-catching black and yellow "caution" stripes. This vibrant design adds a sense of excitement and anticipation, drawing in participants and spectators alike. The course's visually engaging elements create an immersive experience that will leave a lasting impression on all who embark on this adventure.
To elevate the excitement even further, Wonder World Jumping Castles offers the option to combine our 32' Radical Run Dual Lane Caution Obstacle Course with other Radical Run Obstacle Courses, creating an even longer and more exhilarating course. With multiple possibilities, you can design the perfect obstacle course experience that suits your event's needs and preferences.
Serving Tucson, AZ, and the surrounding areas, Wonder World Jumping Castles is your trusted partner in delivering unforgettable entertainment. We are committed to creating an atmosphere of laughter, excitement, and lasting memories for all our clients and their guests.
Don't miss out on the opportunity to elevate your event to new heights. Let us handle the setup and logistics, ensuring a seamless experience that will leave your guests buzzing with excitement.
Prepare to embark on an epic adventure filled with challenges, triumphs, and unforgettable moments. Book now and be part of the exhilarating journey through the 32' Radical Run Dual Lane Caution Obstacle Course, at Wonder World Jumping Castles!