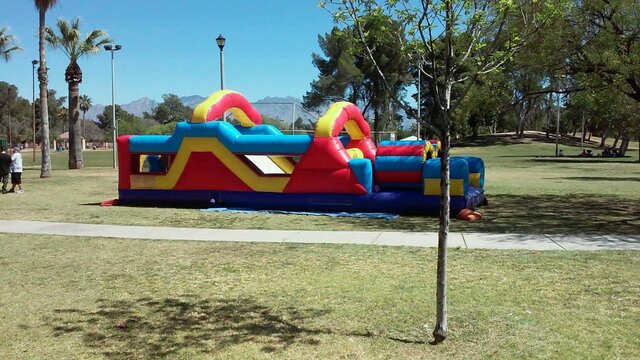 37' DUAL LANE OBSTACLE COURSE
Actual Size: 37′ L x 11′ W x 10′ H 




Welcome to Wonder World Jumping Castles, your premier destination for thrilling and action-packed party experiences in Tucson, AZ, and the surrounding areas. Get ready to take on the challenge with our incredible 37' Dual Lane Obstacle Course!
Designed for adrenaline junkies and adventure seekers, our Dual Lane Obstacle Course is the ultimate test of speed, agility, and determination. With two lanes available, you can race head-to-head with a friend, family member, or colleague, adding an extra layer of excitement and friendly competition to your event.
Prepare to jump, crawl, squeeze, and slide your way through a series of exhilarating obstacles that will push your skills to the limit. From daring openings and surprise pop-ups to tricky log jams and crawl tubes, every element of our obstacle course is designed to keep you on your toes and provide an unforgettable experience.
Challenge your endurance as you navigate through the squeeze walls, testing your flexibility and determination. Conquer the rock wall with sheer determination, using your strength and agility to reach new heights. And when you've overcome every hurdle, get ready for an epic finish as you glide down the slide, celebrating your victory with cheers and applause.
Our 37' Dual Lane Obstacle Course is a vibrant burst of colors, featuring eye-catching shades of red, blue, and yellow. Its vibrant design sets the stage for an energetic and visually captivating experience that will leave a lasting impression on your guests.
Whether you're hosting a birthday party, a corporate team-building event, a school function, or any special occasion, our 37' Dual Lane Obstacle Course is the perfect addition to elevate the excitement and create lasting memories. It's a crowd-pleasing attraction that appeals to participants of all ages, from children to adults.
At Wonder World Jumping Castles, we take pride in delivering top-notch entertainment that guarantees a one-of-a-kind experience for everyone. We serve Tucson, AZ, and the surrounding areas, bringing the thrill and joy of our obstacle course to your doorstep.
Don't miss the opportunity to add a touch of excitement and adventure to your next event. Our friendly and professional team will handle the setup and ensure that every detail is taken care of, so you can focus on enjoying the thrill of the race.
Get ready to push your limits, conquer the obstacles, and make memories that will last a lifetime. Book now and experience the excitement of our 37' Dual Lane Obstacle Course with Wonder World Jumping Castles!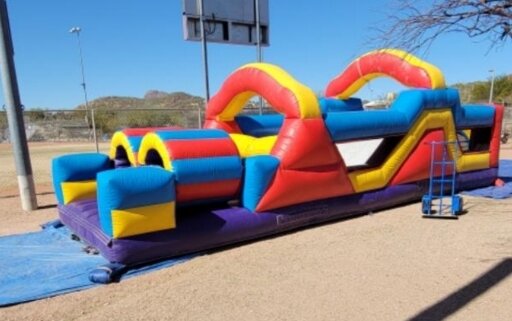 .