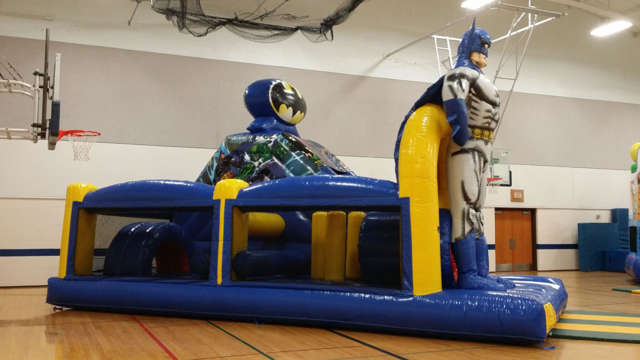 40' BATMAN OBSTACLE COURSE
Actual Size: 40L X 20W X 25H 




Welcome to Wonder World Jumping Castles, your go-to destination for unforgettable and action-packed party experiences in Tucson, AZ, and the surrounding areas. Get ready to embark on an epic adventure with our thrilling 40' Batman Obstacle Course!
Step into the world of Gotham City and join forces with the Dark Knight himself. Our Batman Inflatable Obstacle Course Challenge is the ultimate centerpiece for any superhero-themed event. Towering above mere mortals, Batman stands proud and ready to guide you through an exhilarating journey like no other.
Prepare to unleash your inner hero as you tackle the front-loading obstacle entrance. Navigate through tunnels, conquer pop-ups, and maneuver around exciting objects that will test your agility and determination. Feel the rush of excitement as you progress towards the main attraction: the front-exiting climb and slide. Ascend to new heights and then zoom down the slide, experiencing the thrill of victory just like the Caped Crusader.
The 40' Batman Obstacle Course captivates with its stunning design. Primarily adorned in bold shades of blue, grey, and yellow, it truly captures the essence of Batman's iconic color scheme. But that's not all—this dynamic inflatable obstacle course also incorporates other vibrant colors, creating a visually captivating experience that will leave a lasting impression on all who enter.
Whether you're hosting a birthday party, a corporate event, a school function, or any special occasion, the 40' Batman Obstacle Course is the ultimate attraction that will engage participants of all ages. It serves as a thrilling centerpiece that brings out the superhero spirit in everyone, creating an atmosphere of excitement, camaraderie, and unforgettable memories.
At Wonder World Jumping Castles, we are committed to delivering exceptional entertainment that surpasses expectations. Serving Tucson, AZ, and the surrounding areas, we bring the magic of the Batman Obstacle Course directly to your event.
Don't miss the chance to elevate your event to superhero status. Book today. Our dedicated team will handle the setup and ensure that every detail is taken care of, so you can focus on experiencing the thrill of Gotham City right at your fingertips.
Unleash your inner hero, conquer the obstacles, and make memories that will last a lifetime. Book now and join forces with Batman on the 40' Batman Obstacle Course, exclusively at Wonder World Jumping Castles!