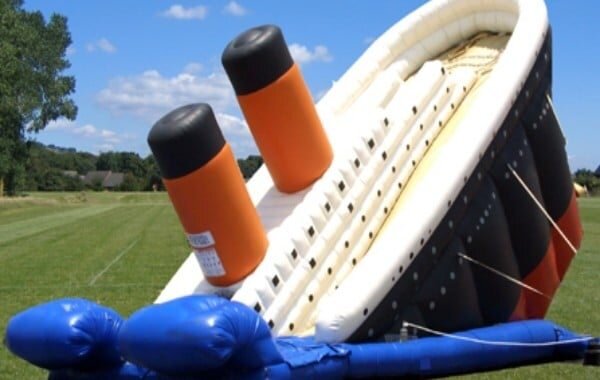 40 FT TITANIC SLIDE
This incredible 40 foot high slide captures the heart of both young & old with its beautiful design and fast dual slide lanes. It is sure to attract everyone's attention. Adding to the thrill is its spacious cabin climbing area. Safety hand rails and steps allow each rider to ascend to the top two sliding areas with ease. This is the perfect "centerpiece" to any event. With its bow reaching 40 feet in the air, this one will amaze people of all ages.

Titanic Requirements:
If set-up area is fenced in, there must be a DOUBLE GATE for access.
Minimum area: 63′ x 41′ x 33′
Height limits: 42″ minimum to 76″
Maximum weight limits: 250lbs maximum

NOTE: This castle can only be used dry. This is not a waterslide.