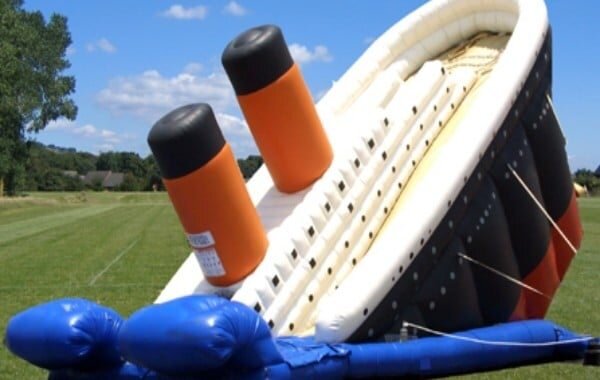 40 FT TITANIC SLIDE
Setup Area: 63′ x 41′ x 33′




Welcome aboard Wonder World Jumping Castles, your premier destination for unforgettable adventures in Tucson, AZ, and the surrounding areas. Prepare to embark on an extraordinary journey with our colossal 40' Titanic Slide!
Step into the pages of history as you set foot on our Titanic Slide, a majestic masterpiece in the shape of half the Titanic ship, gracefully sinking into the ocean. This unique design will transport you back to the fateful night when the legendary vessel met its fate, but fear not, this adventure is filled with excitement and laughter.
Standing tall and grand, our 40' Titanic Slide offers an epic slide experience like no other. Gather your friends, family, or colleagues and prepare for an exhilarating race down the deck. With two lanes available, you can go head-to-head with a fellow adventurer, battling the waves and racing towards victory. Who will be the first to reach the bottom and claim their triumph?
As you descend down the slide, you'll feel the rush of the wind against your face, creating a sensation of sailing through the open seas. Our Titanic Slide is designed for dry sliding, providing a fast-paced adventure that will leave you breathless with excitement.
At Wonder World Jumping Castles, your safety is our top priority. Our Titanic Slide is meticulously crafted with the highest standards of quality and maintained to ensure a secure and worry-free experience for all. Rest assured, you can focus on the thrill of the slide while we take care of the details.
Our 40' Titanic Slide is the perfect centerpiece for any event. Whether it's a birthday party, community gathering, or corporate function, this iconic slide will leave a lasting impression on all who dare to join in the adventure. It's an opportunity to create unforgettable memories and capture the spirit of exploration.
As your trusted entertainment provider, Wonder World Jumping Castles proudly serves Tucson, AZ, and the surrounding areas. We bring the excitement to your doorstep, ensuring that every occasion is filled with joy and laughter. Don't miss out on this extraordinary experience—book our 40' Titanic Slide today!
Join us at Wonder World Jumping Castles, where imagination knows no bounds. Visit our website at www.wonderworldjumpingcastles.com to reserve your spot and embark on a thrilling voyage aboard our 40' Titanic Slide. Get ready to slide, laugh, and create memories that will stand the test of time.

Titanic Requirements:If set-up area is fenced in, there must be a DOUBLE GATE for access.
Minimum area: 63′ x 41′ x 33′
Height limits: 42″ minimum to 76″
Maximum weight limits: 250lbs maximum

NOTE: This castle can only be used dry. This is not a waterslide.