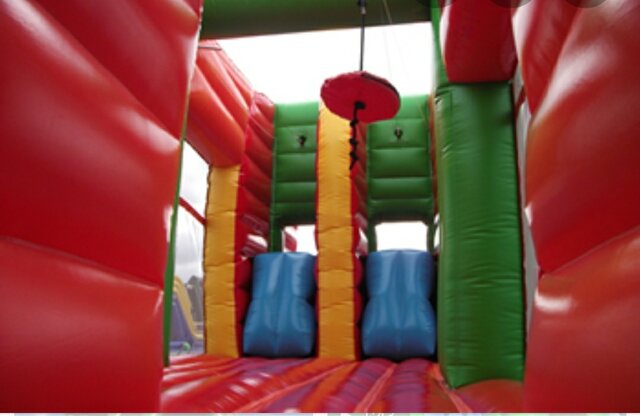 45' ZIP LINE
Welcome to Wonder World Jumping Castles, your premier destination for unforgettable experiences in Tucson, AZ, and the surrounding areas. Get ready to take your party, festival, or outdoor event to new heights with our thrilling 45' Zip Line!
Prepare for an adventure like no other as you soar through the air along a breathtaking 45-foot long aerial zipline. Brace yourself for an exhilarating journey that will leave you awe-inspired and craving for more. Our inflatable zipline is the ultimate party attraction that guarantees an unforgettable experience for guests of all ages.
Safety is our top priority, which is why our zip line is designed with inflatable walls that ensure complete protection from takeoff to touchdown. With dual zip lines, two riders can embark on this towering aerial adventure simultaneously, adding an extra level of excitement and friendly competition.
Picture yourself zooming down the zipline, feeling the rush of wind against your face, and the thrill of flight. As you approach the end of your journey, our super soft inflatable landing area will provide a gentle and secure touchdown, giving you the sensation of soaring through the air in a safe environment.
The 45' Zip Line is perfect for large-scale events and crowds. It will be the center of attention, captivating guests with its sheer excitement and awe-inspiring presence. Whether you're hosting a grand festival, an outdoor carnival, an epic birthday party, or a corporate event, our zip line is guaranteed to deliver thrills and endless fun.
Recommended for guests aged 5 and above, this thrilling attraction is suitable for both the young and the young at heart. Create cherished memories as you watch children and adults alike embrace the excitement and adventure of the zip line experience.
At Wonder World Jumping Castles, we prioritize your safety and satisfaction. Our experienced team will handle the setup and breakdown of the 45' Zip Line, ensuring a seamless and hassle-free experience for you and your guests. Rest easy knowing that our professionals are dedicated to providing top-notch service from start to finish.
Please note that a clear setup area with a minimum of 5 feet clearance on each side is required. We also require access to four standard 120V outlets within 50 feet for setup. If your setup area is fenced in, please ensure a DOUBLE GATE is available for convenient access.
Are you ready to take flight and experience the thrill of our 45' Zip Line? Contact Wonder World Jumping Castles today to reserve this incredible attraction for your next event. Don't miss out on the opportunity to create lasting memories and provide your guests with an unforgettable adventure.
Book now and let the excitement begin!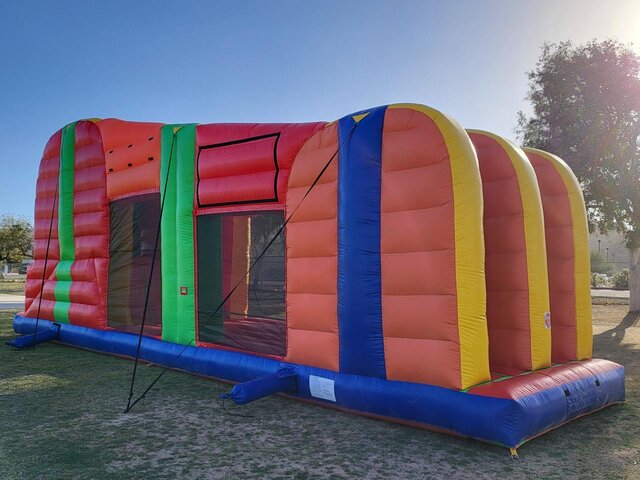 .