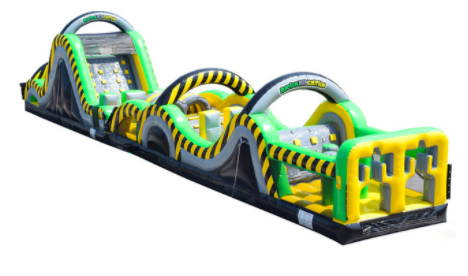 67' RADICAL RUN OBSTACLE COURSE
Actual Size: 67' L x 11' W x 16' H
Setup Area: 73' L x 17' W x 16'8" H




Welcome to Wonder World Jumping Castles, the ultimate destination for unforgettable party experiences in Tucson, AZ, and the surrounding areas. Get ready to embark on an epic adventure with our incredible 67' Radical Run Caution Dual Lane Obstacle Course!
Prepare for an adrenaline-fueled journey as you navigate through this colossal obstacle course, stretching an impressive 67 feet in length. This thrilling game is jam-packed with a wide array of exciting features that will challenge your agility and test your determination. From exhilarating pop-ups and a formidable log jam to a daring squeeze wall, crawl throughs, jump throughs, and an exhilarating up and over slide, every step will push your limits and ignite your sense of adventure.
The 67' Radical Run Caution Dual Lane Obstacle Course is specially designed to accommodate two participants at a time, allowing you and a friend to engage in a thrilling race against each other. Imagine the excitement as you compete side by side, pushing yourselves to conquer each obstacle with speed and skill. It's the ultimate test of teamwork, camaraderie, and friendly competition.
With its captivating color scheme of green, grey, and yellow, accentuated by striking black and yellow "caution" stripes, this obstacle course is a visual spectacle that will captivate your guests and set the stage for an unforgettable event. Whether it's a birthday bash, corporate gathering, or community festival, the 67' Radical Run Caution Dual Lane Obstacle Course will be the centerpiece of excitement and the highlight of your celebration.
But that's not all! Our Radical Run Obstacle Courses are designed to be combinable, offering mulitple possibilities for creating an even longer and more exhilarating adventure. Combine multiple courses to elevate the excitement and provide an experience like no other. The choice is yours, and the possibilities are boundless.
Serving Tucson, AZ, and the surrounding areas, Wonder World Jumping Castles brings the magic and excitement of our attractions right to your doorstep. We are committed to delivering exceptional entertainment and creating unforgettable memories for you and your guests.
Don't miss out on the opportunity to take your event to extraordinary heights. Let us handle the setup and logistics while you focus on creating priceless moments and lifelong memories.
Prepare to embark on an adventure like no other, conquer the obstacles with determination, and experience the thrill of the 67' Radical Run Caution Dual Lane Obstacle Course. Wonder World Jumping Castles is here to make your event truly extraordinary. Book now and get ready to make memories that will last a lifetime!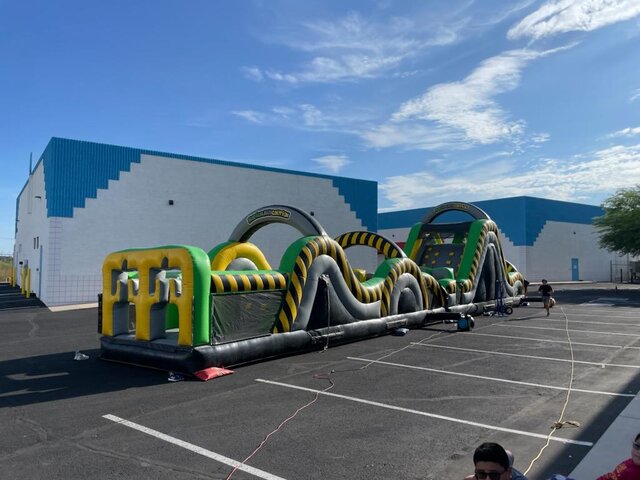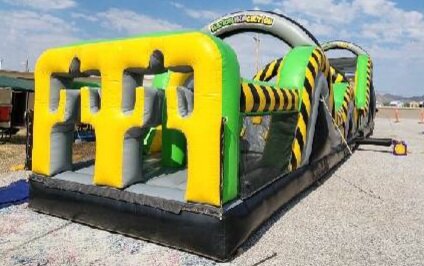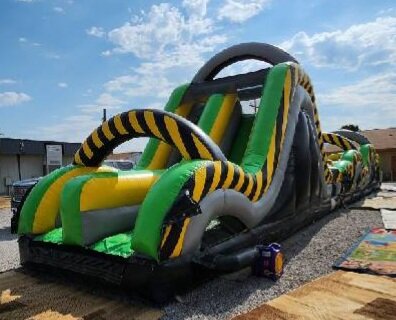 .