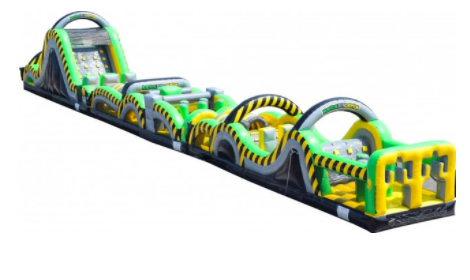 97' RADICAL RUN CAUTION DUAL LANE OBSTACLE COURSE
Actual Size: 97' L x 11' W x 16' H
Setup Area: 105' L x 17' W x 17' H




Welcome to Wonder World Jumping Castles, your premier destination for extraordinary party experiences in Tucson, AZ, and the surrounding areas. Get ready to take your event to unprecedented heights with our show-stopping 97' Radical Run Caution Dual Lane Obstacle Course!
Prepare for an exhilarating adventure as you tackle this colossal obstacle course, stretching an incredible 97 feet in length. Packed with an array of thrilling features, including exciting pop-ups, a challenging log jam, a formidable squeeze wall, crawl throughs, jump throughs, and an epic up and over slide, this obstacle course will push your limits and ignite your sense of adventure like never before.
The 97' Radical Run Caution Dual Lane Obstacle Course is the ultimate choice for those seeking the longest and most action-packed obstacle course experience. Designed for two participants at a time, you and a friend can embark on a thrilling race to conquer each obstacle with speed, agility, and determination. It's a test of skill, teamwork, and friendly competition that will create unforgettable memories.
With its captivating color scheme of green, grey, and yellow, accentuated by eye-catching black and yellow "caution" stripes, this obstacle course is a visual spectacle that will wow your guests and set the stage for an unforgettable event. The vibrant colors and bold design will ignite excitement and anticipation as participants gear up to conquer the course.
Serving Tucson, AZ, and the surrounding areas, Wonder World Jumping Castles is dedicated to delivering exceptional entertainment and creating unforgettable moments. We bring the magic and excitement of our attractions right to your doorstep, ensuring a hassle-free and memorable event for you and your guests.
Don't miss out on the opportunity to elevate your event to new heights. Let us handle the setup and logistics while you focus on creating extraordinary memories and moments of pure joy.
Prepare to embark on an adventure that will leave your guests in awe, conquer the obstacles with determination, and experience the thrill of the longest Radical Run Obstacle Course—the 97' Radical Run Caution Dual Lane Obstacle Course. Wonder World Jumping Castles is here to make your event truly extraordinary. Book now and get ready for an unforgettable journey of excitement and laughter!
Please note: Due to the exceptional length and requirements of the 97' Radical Run Caution Dual Lane Obstacle Course, specific venue restrictions may apply. Contact us for more information and let us help you create a customized experience that suits your event needs.