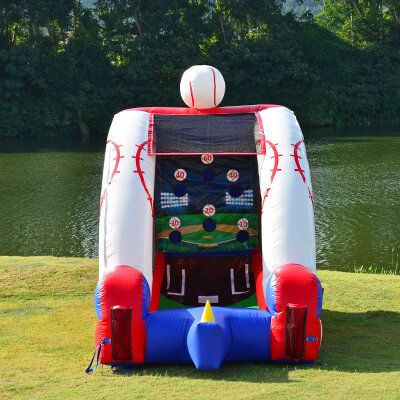 BASEBALL GAME
Actual Size: 5'W x 13'D x 10'H




Welcome to Wonder World Jumping Castles, the ultimate destination for fun and excitement in Tucson, AZ, and the surrounding areas! Get ready to step up to the plate with our thrilling Baseball Game—an inflatable carnival-like game that will put your batting and throwing skills to the test.
Are you ready to swing for the fences? Our Baseball Game is the perfect opportunity to improve your batting accuracy and unleash your inner slugger. Step into the batter's box, grab the bat, and take aim at the targets scattered around the backdrop. Each target comes with a different scoring level, adding an extra layer of challenge and excitement to the game. Whether you're aiming for a home run or honing your throwing accuracy, our Baseball Game guarantees endless hours of fun and friendly competition.
At Wonder World Jumping Castles, we understand the thrill of sports and the joy they bring to people of all ages. That's why we offer a wide selection of sport-themed interactive games to complement your event. In addition to our Baseball Game, you can also consider adding our football, soccer, or basketball interactive games to create the ultimate sports extravaganza. From hitting home runs to scoring goals, our collection of interactive games will keep everyone engaged, entertained, and in high spirits.
Safety and satisfaction are our top priorities at Wonder World Jumping Castles. Each inflatable attraction, including our Baseball Game, is meticulously inspected and maintained to ensure a safe and enjoyable experience for all participants. We are committed to delivering exceptional entertainment that exceeds your expectations and creates lasting memories.
Wonder World Jumping Castles proudly serves Tucson, AZ, and the surrounding areas, offering top-quality entertainment options for a variety of occasions. Whether you're hosting a birthday party, corporate event, school function, or community gathering, our interactive games will add a touch of excitement and create an unforgettable experience for everyone involved.
Don't miss out on the opportunity to elevate your event with our Baseball Game and other sport-themed interactive attractions. Contact Wonder World Jumping Castles today, and let our team assist you in selecting the perfect games for your occasion. Get ready to test your skills, compete with friends and family, and create a memorable celebration that will have everyone cheering for more!
Remember, Wonder World Jumping Castles is your go-to destination for interactive games and entertainment in Tucson, AZ, and the surrounding areas. Contact us now to reserve the Baseball Game and other exciting attractions that will make your event a grand slam. Let's bring the thrill of the ballpark to your next gathering and make it an unforgettable experience for all.