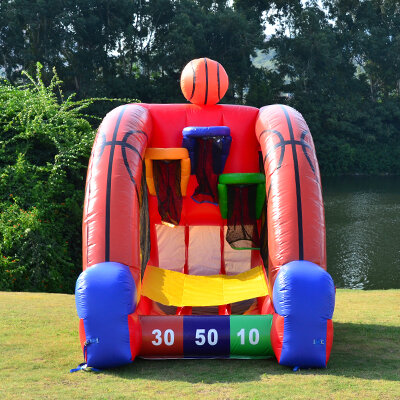 BASKETBALL GAME
Actual Size: 5'W x 13'D x 10'H




Welcome to Wonder World Jumping Castles, your premier provider of fun and excitement in Tucson, AZ, and the surrounding areas! Get ready to show off your skills on the court with our thrilling Basketball Game—an inflatable carnival-like game that will have you shooting hoops and scoring points like a pro.
Step up to the challenge and let the games begin! The Basketball Game features three baskets with different point values—30, 50, and 10. Take aim, perfect your shot, and earn points as you sink each basket. With each successful shot, you'll feel a surge of exhilaration and the satisfaction of seeing your score climb higher and higher.
Our Basketball Game is designed to bring out the competitive spirit in players of all ages. Whether you're a basketball enthusiast or simply looking for a fun activity, this interactive game will provide hours of excitement and entertainment. Gather your friends, family, and colleagues and engage in friendly competition as you aim for the highest score and bragging rights.
But the fun doesn't stop with basketball! At Wonder World Jumping Castles, we offer a wide range of sport-themed interactive games to complement your event. Consider adding our football, soccer, or baseball interactive games to create the ultimate sports extravaganza. From shooting hoops to kicking goals, our collection of interactive games will keep everyone engaged and entertained.
At Wonder World Jumping Castles, we are committed to providing exceptional entertainment and ensuring the satisfaction of our customers. Our Basketball Game and other interactive attractions are constructed with safety, durability, and fun in mind. Each inflatable is carefully inspected and maintained to ensure a safe and enjoyable experience for all participants.
Wonder World Jumping Castles proudly serves Tucson, AZ, and the surrounding areas, offering top-quality entertainment options for a variety of occasions. Whether you're hosting a birthday party, corporate event, school function, or community gathering, our interactive games will add a touch of excitement and create lasting memories.
Don't miss out on the opportunity to elevate your event with our Basketball Game and other sport-themed interactive attractions. Contact Wonder World Jumping Castles today, and let our team assist you in selecting the perfect games for your occasion. Get ready to showcase your basketball skills, engage in friendly competition, and create an unforgettable experience that will leave everyone cheering for more!
Remember, Wonder World Jumping Castles is your go-to destination for interactive games and entertainment in Tucson, AZ, and the surrounding areas. Contact us now to reserve the Basketball Game and other exciting attractions that will make your event a slam dunk. Let's bring the energy of the court to your next gathering and make it a truly memorable celebration!